I'm sure you have heard of Taco Tuesday or even Meatloaf Monday – were you have a specific food based on the day of the week, well I've switched it up to Sweet Tuesday – featuring the 2017 Sale-A-Bration stamp set Tasty Trucks and from the Annual Catalog the stamp set Bella & Friends.
While I was working on this card over the weekend, my dogs Nitro and Diesel were resting after a few hours running around the yard. In honor of them the little pup I added to the truck was colored in Early Espresso.  The dogs are black with brown and reddish highlight, same say Nitro (on the couch) reminds them of Rin-Tin-Tin.  If you don't know who Rin-Tin-Tin (September 10, 1918 – August 10, 1932) is he was a male German Shepherd that was an international star in motion pictures. He was rescued from a World War I battlefield by an American soldier, Lee Duncan, who nicknamed him "Rinty". Duncan trained Rin Tin Tin and obtained silent film work for the dog. Rin Tin Tin was an immediate box-office success and went on to appear in 27 Hollywood films, gaining worldwide fame. Along with the earlier canine film star Strongheart, Rin Tin Tin was responsible for greatly increasing the popularity of German Shepherd dogs as family pets.   Here is the picture of them from Sunday.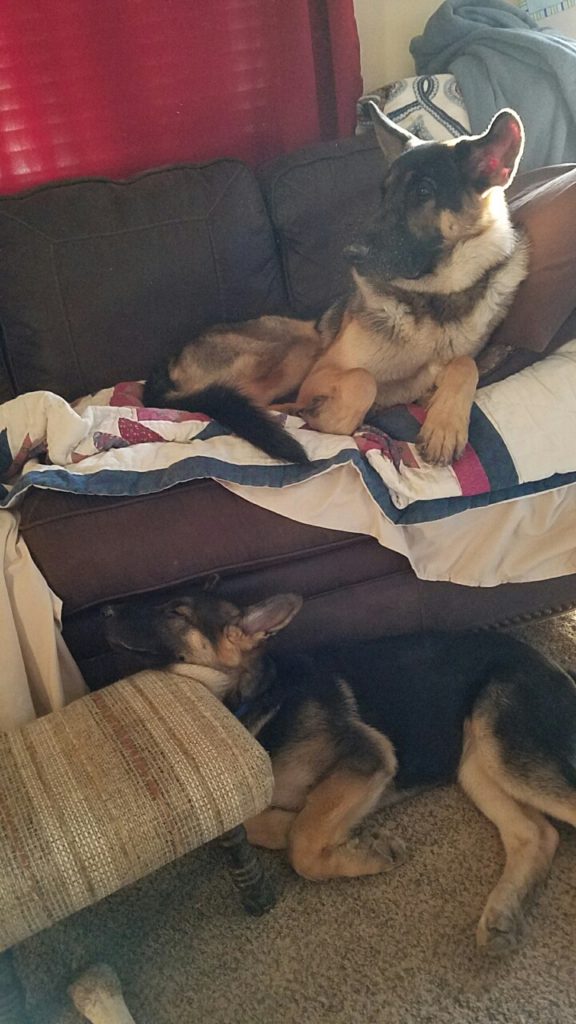 Now on to my card, which starts with a Calypso Coral card based stamped in the same color with the cupcake and ice cream cone stamps from Tasty Trucks. Using Watercolor Paper and Basic Black Archival Ink, stamped the truck, flags and on a scrap one of the dogs from Bella and Friends. Once the images where dry I used the Watercolor Pencils and Aqua Painter to color all the images. Using Paper Snips I cut out the pup, next with my Stampin' Trimmer cut a slit in the window and slid the pup in.  Used glue dots to hold him in place. The watercolor paper was adhered with a bunch of Stampin' Dimensionals.  For a finishing touch, I used a glue dot to adhere one of the Falling in Love Embellishments.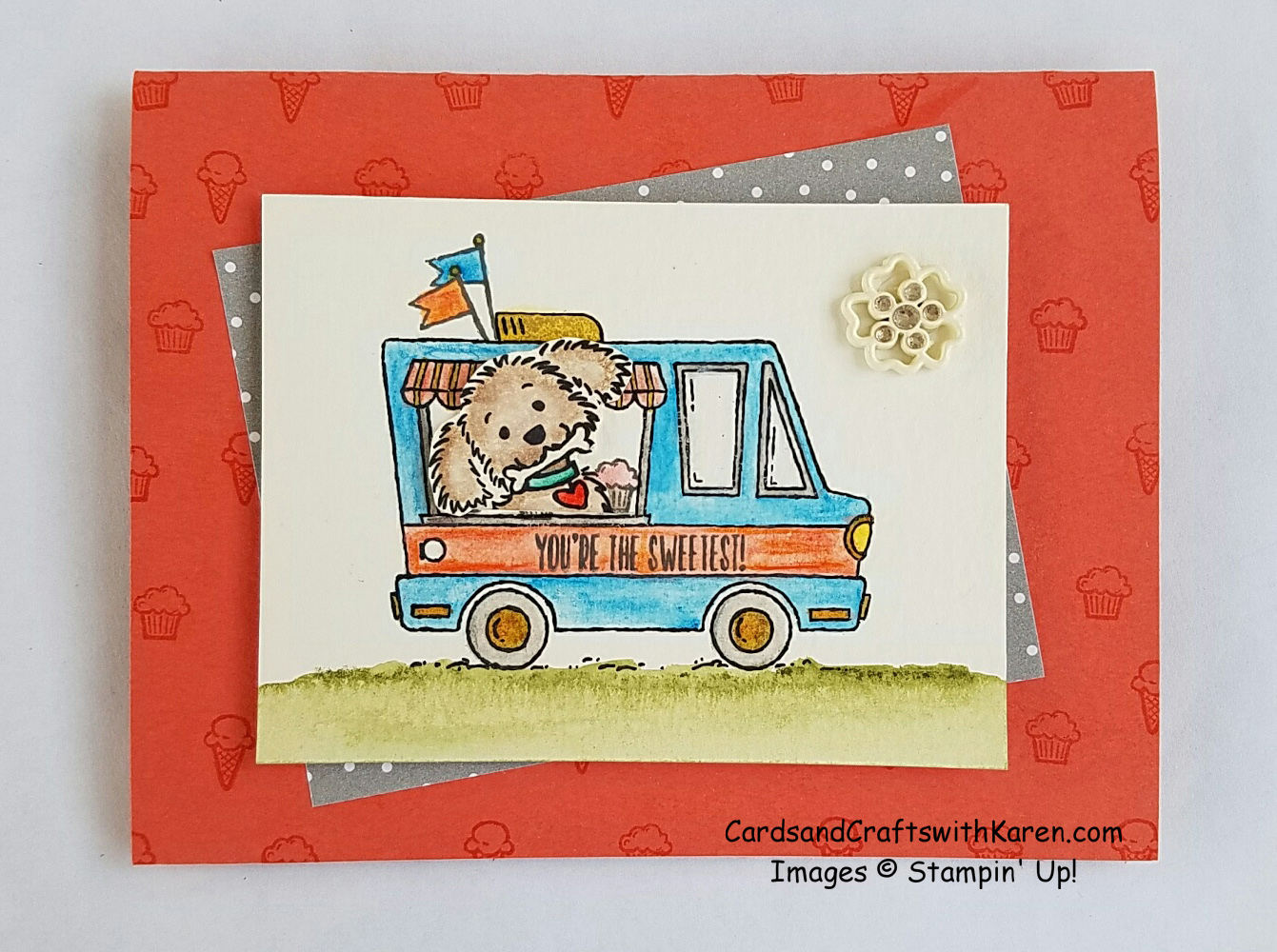 Hope you enjoyed the card and story of Rin-Tin-Tin.
Thank you for stopping by, have a great day – Craft On!
Click on any of the images below for more product information or to order directly from my on-line store. Everyone who orders from me and checks demonstrator contact will receive handmade re-useable card and small thank you gift. Remember to use the March host code CW3FW9W3 when placing your order to receive your thank you items from me. Happy Shopping.