HHappy Friday, sure has been a busy week at work, looking forward to a little down time this weekend. Still cold here, weathermen say its going down to zero tonight with wind chills will feel like -20, brrrrr 🙂  Only one around here that likes this weather is our husky Bandit.  He loves to curl into a little ball and lay on the couch on the covered and protected back porch.
Today I am sharing with you the card I created for a demonstrator swap I am participating in featuring products from the new 2015 Occasions catalog.  This card features some of my favorite new products – the Butterfly and Hello You Thinlits and Butterfly Basic stamp set. Stampin Up sells the Butterfly Thinlits & Butterfly Basic stamp set as a bundle, available in photopolymer, clear or wood stamps, one of the new features of this years Occasions catalog. The color combination of Blackberry Bliss, Crushed Curry, Bermuda Bay and Wild Wasabi is one of my go to combo's, always looks nice no matter the theme of the card. Images are stamped on Whisper White, then matted on Blackberry Bliss.  There are butterflies in both Blackberry Bliss and Crushed Curry, joined together in the middle only, for dimension.  There is a Bermuda Bay sequin under a Bermuda Bay Bakers Twine bow for added glitz.  Greeting of 'Hello' is also in Blackberry Blush.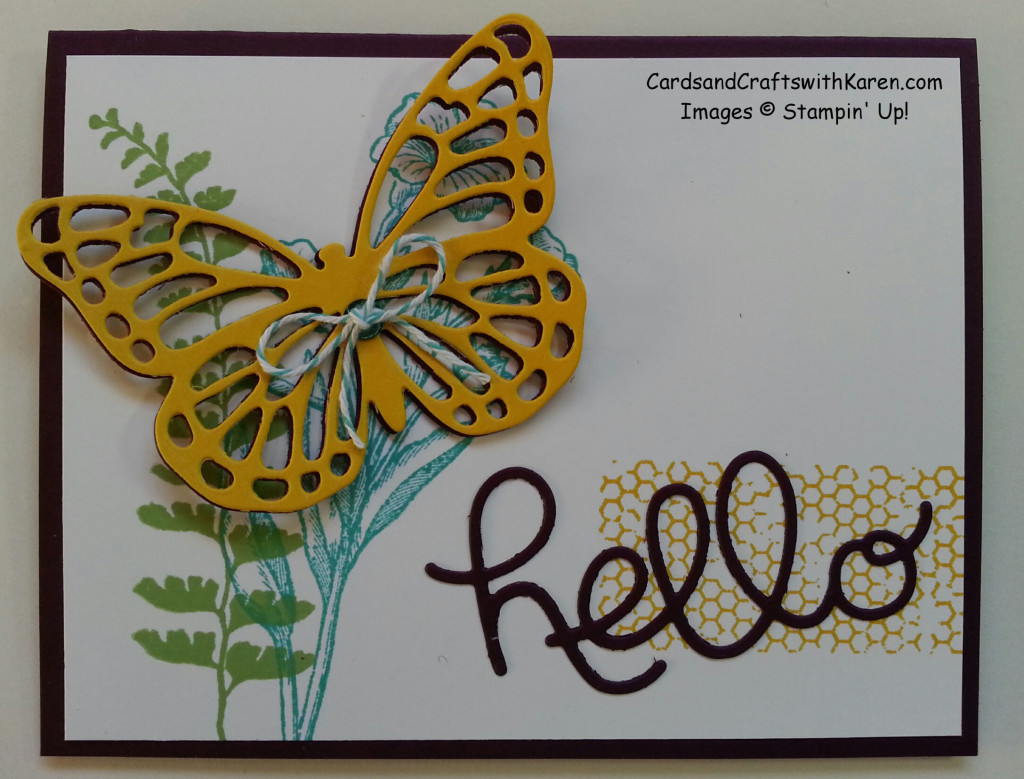 Thanks for stopping by, hope you enjoyed the card, supplies are listed below. Click for a link to my on-line store.
Have a nice weekend, Craft On!