Say hello to a new world of colorful creativity! Meet Stampin' Blends, artist-quality alcohol markers in 12 exclusive Stampin' Up! colors. To cover all the blending bases, we're also offering a limited-time 16-card project kit and stamp set with beautiful line-art images.
Add just the right amount of color where you need it with the brush tip or fine-point.
Each color (except Ivory and Bronze) has a light and dark shade marker, available individually or in a combo pack.
Stampin' Up! completed in-house testing for evaporation and life testing and are really happy with the results.
Press fit seal prevents air from entering the barrel and causing evaporation.
The nestable lids are easy to keep track of and have a tight fit for long-lasting color.
 Here are cards from the Color Me Happy Kit I colored using the new Blends, I love how the colors blend.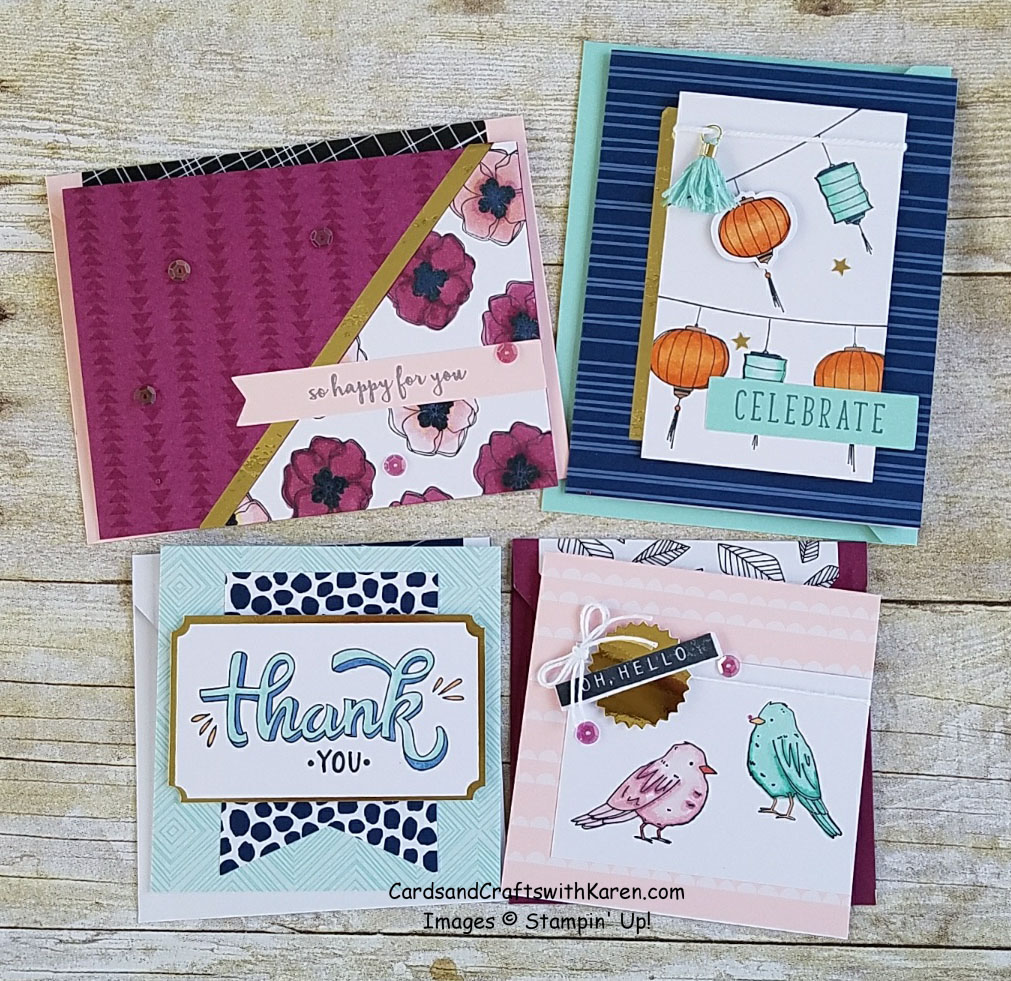 Why are Stampin' Blends not packaged together as a collection?
Because all the Stampin' Blends markers are sold singly—and because the marker offering will continue to grow with future publications (which means the offering will continually change)—Stampin' Blends are not packaged as a "collection" or discounted when you purchase all of them. In fact, the initial collection item number was only created for ease of ordering— to avoid entering numerous item numbers to order every Stampin' Blend currently available.
By packaging them as singles, you can order the exact markers you want in the quantities you want.
Why are Stampin' Blends not refillable?
To provide a low-cost, high-quality marker that could easily and economically be replaced without having to worry about purchasing ink refills or nib replacements. And again, by offering them singly, you can purchase individual replacements, as needed.
Blends brochure: StampinBlends_2017_US
Thank you for taking the time to stop by, hope you are inspired to try making cards.
Please join my newsletter group to receive instructions and supply lists for all projects featured during the 12 Sundays of Christmas.  Follow me on Instagram @cqueen309.
Have a great day – Craft On!
Click on any of the images below for more product information and to order directly from my on-line store.
Please add your order to the current Host Code XZJVWWKD, check demonstrator contact, I'll happily send you a re-useable thank you card and free gift. This month orders between $35-$74.99 (before shipping and tax) receive a package of Clear or Gold Faceted Gems and orders from $75-$149.99, in addition to the Faceted Gems you will receive a package of Metallic Enamel Shapes.
For orders is over $150, please use all of the Host Rewards you've earned.  Otherwise, I'd love for you to add your order to the current Host Code XZJVWWKD .
To see all the individual order numbers for Stampin' Blends, visit my online store my clicking here.
Happy Shopping!