Hopefully were you live you were able to enjoy fireworks last night. For us, next weekend is when our community has their annual community days and fireworks, we watched some firework shows on television and they were great! I enjoyed the 4th by doing some craft projects and spending a few hours in the swimming pool, it was a great day for that! Today is food shopping day, when you open our frig there is a cool breeze.
Today's card is for the Paper Craft Crew Card Sketch challenge. The sketch is below, stop over to their blog to check out their design team items and cards by other crafters like me, just click here.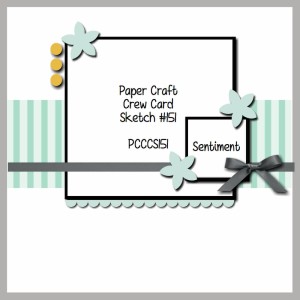 To create my 5″x 5″ card I used a piece of Bohemian Designer Series Paper as inspiration and on my card. Since the colors include Delightful Dijon, Bermuda Bay and Blackberry Bliss, I used both Bermuda Bay and Blackberry Bliss card stock and for the Delightful Dijon, chose to use the new 'Color Me Irresistible Specialty Designer Series Paper'. The dinosaur images are from the No Bones About It Photopolymer Stamp Set. Being a photopolymer stamp set makes it easy to line up the images for the two step stamping. I used the new Gold Metallic thread to wrap around the card, but finished it off with a bow from the new Dotted Lace Trim in Delightful Dijon. The punched out stars are from the Itty Bitty Accent Punch Pack set (this punch set really comes in handy for multiple projects). On the upper left corner are three 'green' circles, these are actually the new White Perfect Accents colored with a Sharpie – I thought that the dinosaur's that were stamped with Delightful Dijon and Bermuda Bay looked green to me, so green circles it is. Both the image square and sentiment square are backed with dimensionals for depth. The No Bones About It stamp set is definitely going to be a fun one to stamp with!  ♥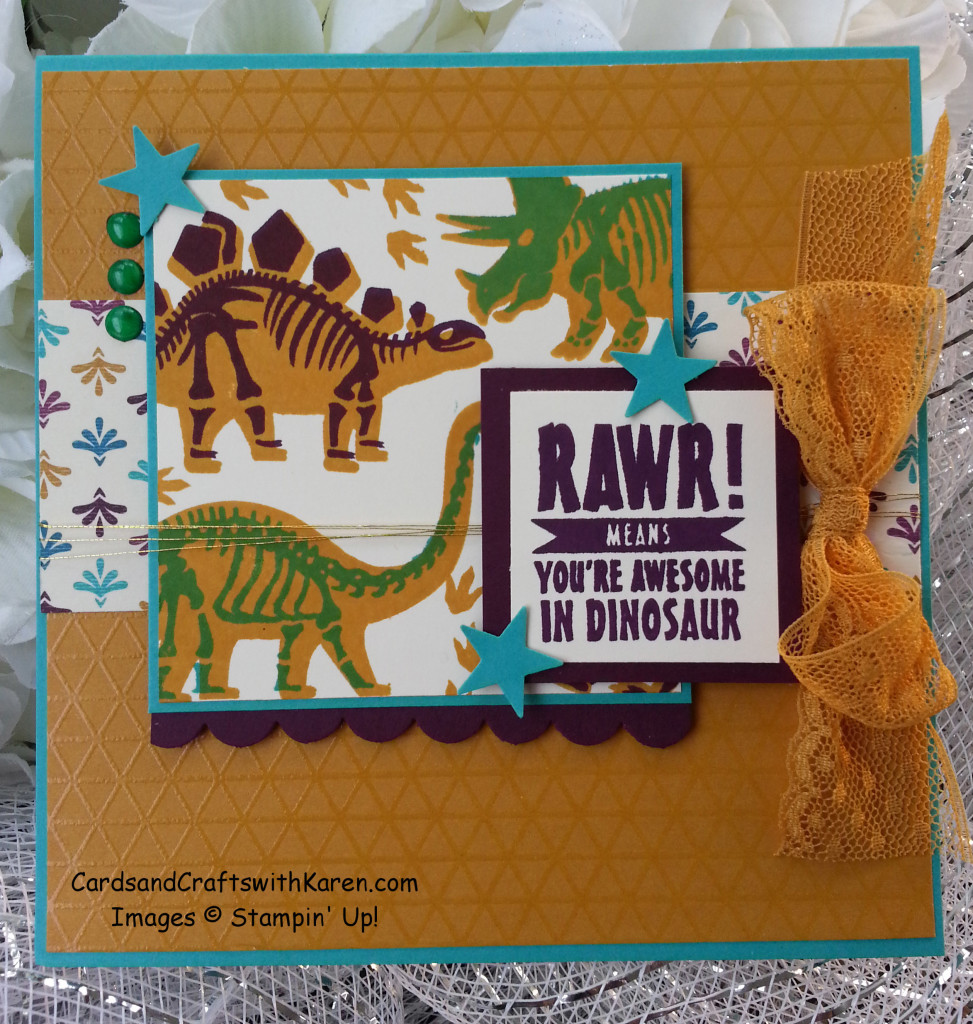 Thank you for stopping by, hope you enjoyed the card. Click on any of the images below for more product information or to place an on-line order. Have a great day, Craft On!