Over this past weekend I was thinking what a difference a week makes. The weekend of the 21st-22nd it was in the 60's and we wore shorts and t-shirts and this past weekend, not above 32 and snow flurries! Thought I would use the Photopolymer stamp set High Tide and make a card reminding me warmer days to come and the beach.
The main stamp of the set – a Lighthouse – is a two stamp process.  First you stamp the main stamp (Real Red) then the outline or shadow based stamp (Dapper Denim).  The beach is Sahara Sand with Early Espresso grass, water is Dapper Denim (stamped off first) and Soft Sky. The light ray is Crushed Curry and seagulls are Early Espresso.
I'm really happy with how this came out and reminds me of a warm summer day.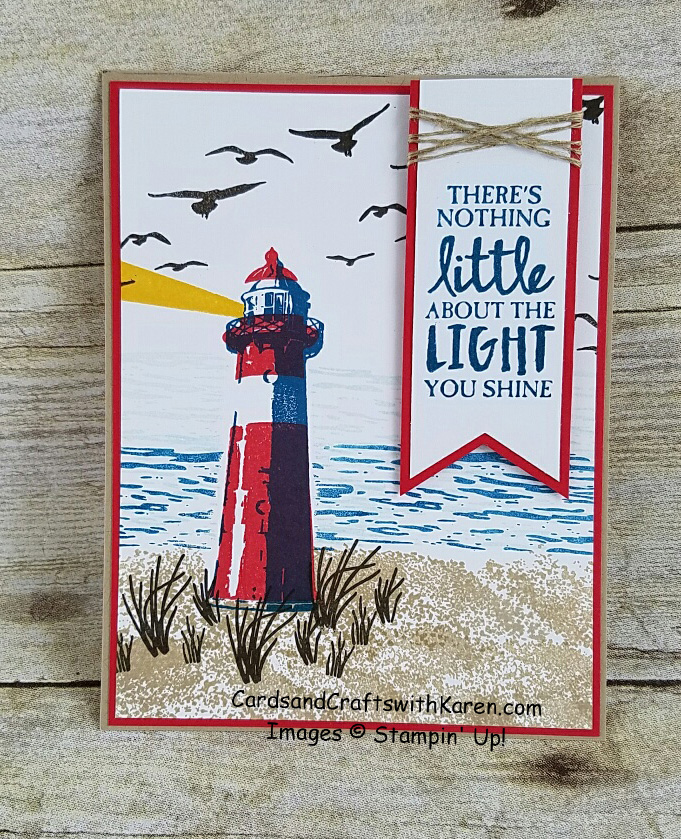 Thank you for stopping by, have a great day – Craft On!
Click on any of the images below for more product information or to order directly from my on-line store. Everyone who orders from me and checks demonstrator contact will receive handmade re-useable card and small thank you gift. Remember to use host code 4UACCWFG when placing your order to receive your thank you items from me. Happy Shopping.