Stampin' Up! Bonus Days – July 1 – 31, 2017, Earn in July – Redeem in August
Bonus Days are back! For every $50 you spend July 1–31 (before shipping and tax), you'll get a $5 Bonus Days coupon emailed to you direct from Stampin' Up! that you can use August 1–31.
Earning July 1 – 31 – – – Important Details:
Keep you codes! Save both the email containing your Bonus Days Coupon and write down the coupon codes in a safe place. Codes cannot be resent if the email is lost and lost codes cannot be recovered. Demonstrators do not receive copies of your codes.
Requires Email Address – An email address is required to participate, bonus codes are only received via email.
No Limit! There is no limit to the number of coupons you can receive per order or throughout the length of the program. Example, if your order is $101.00 (before shipping and tax) you receive 2 bonus codes.
Redeeming August 1 – 31 – – – Important Details:
No Limit! There is no limit to the number of Bonus Coupons participants can use on an order during redemption.
What will you use your coupon code for? Stampin' Up! Bonus Coupon codes can be used for ANY Stampin' Up! products, excluding Starter Kits, Stampin' Host Rewards and Paper Pumpkin month to month subscriptions. New prepaid Paper Pumpkin subscriptions (1, 3, 6 or 12 month fixed) can be discounted with Bonus Day coupons.
Order an Exclusive, Limited Time Bundle August 1 – 31, 2017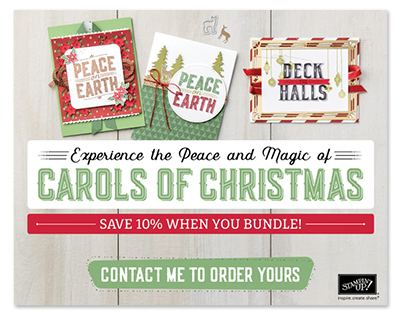 You will be able to order the Carols of Christmas exclusive, limited-time products and save 10% when you purchase the bundle August 1 – 31.  Carols of Christmas is the top rated bundle in a demonstrator survey of the new Holiday Catalog that starts September 1, 2017.  Use can even use your Bonus Day coupons to purchase these products.
Download  and print a flyer for details on the bundle,  Carols_Bundle_Flyer_US.
Thank you for stopping by, have a great day!