Happy Birthday to my favorite nephew Jake, he turns 17 today!  I stayed up late Friday night until just after midnight so that I could send him a Happy Birthday text!
Here is a picture of Jake, rather handsome devil, isn't he. He seems to be taller each time I see him. I hear he now wears size 12 shoes and is about 6′ tall. Next week he will be taking his driving test, cross your fingers he passes. That will surely make life easier for my brother & sister-in-law as they will have someone to run errands for them and take his sister places, just like I did for baby brother!  Funny how I can just see Jake's face turning fifty shades of red as his sister Maya shows him this post.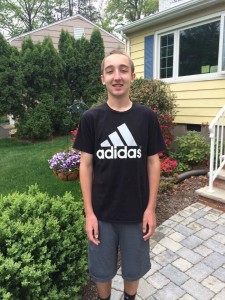 Here is a picture of the present and card I sent him this week.
Both the idea for the card and gift are from posts by fellow demonstrator Dawn Griffith. While Dawn's can was nicely decorated, my husband said I should not decorate it and let Jake think we sent a can of pineapples. To open the can you use one of the 'safety openers' where the edges don't end up being sharp to open the bottom (not the pop top side), empty and clean the can well, fill with treats (or birthday money), glue the bottom back on, then decorate.
Here is a close up of the inside of the card, Dawn called it a 'Double Gate Fold Double Peek-a-Boo Card'.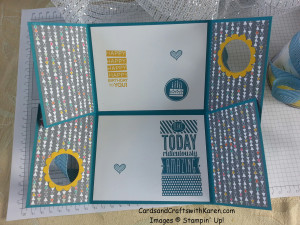 Thank you for stopping by today, hope you liked the card. Have a great day, Craft On!