It's Thursday, one day closer to the weekend! Weather has been nice this week, some rain but temperature around 50, much better than the cold & snow! Today at lunch I want to make a run to the party store, I'm in charge of Easter desserts and thinking about 'shot glass' desserts and want to see what my choices are.
While cleaning up after some crafting I came upon a few hexagon thinlit cut outs and thought why not make a card using the Coastal Cabana one. I sure will miss this In-Color when it retires at the end of May.  Using Coastal Cabana as the main color I checked my designer series paper and settled on a piece of the Best Year Ever Sale-A-Bration Designer Series Paper (one of the free choices with a qualifying purchase).  If you ever get stuck on a color combo, look at your designer series paper and pull together some the colors – you know they'll look good together! The card base is Soft Suede and the designer series paper is backing the Hexagon cut out. I stamped some candles from the Age Awareness stamp set since I wanted to make a birthday card. Stamped three feathers in Chocolate Chip, Crushed Curry and Calypso Coral and used the matching framelit to cut them out.  The magnetic platform along with the Big Shot makes this very easy.  To accent the feathers I used a button from the Best Year Ever Accessory Pack, tied with a linen thread double bow and backed with a dimensional. Sentiment pn the outside is from A Dozen Thoughts and on the inside I stamped Happy Birthday from Age Awareness in Chocolate Chip ink.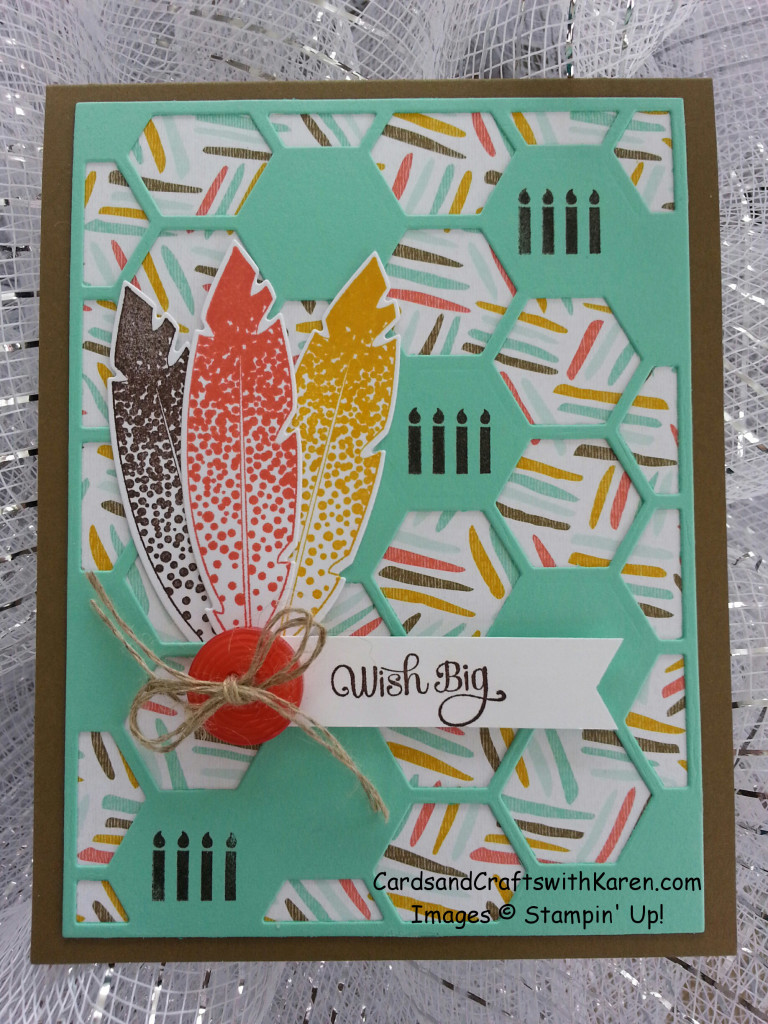 For more detailed product information click on any of the images below.
Thank you for stopping by, hope you enjoyed the card, Craft On!