Happy Saturday, hope your weekend is off to a good start. After a few humid days, this morning was much cooler with a slight breeze, perfect for coffee on the sun porch while reading all my favorite blogs.
Today's card is for the Paper Craft Crew Challenge – Choose any combination of 3 colors for PCC253. The banner is below, click for a link to their blog to see the design team member projects and play along if you like.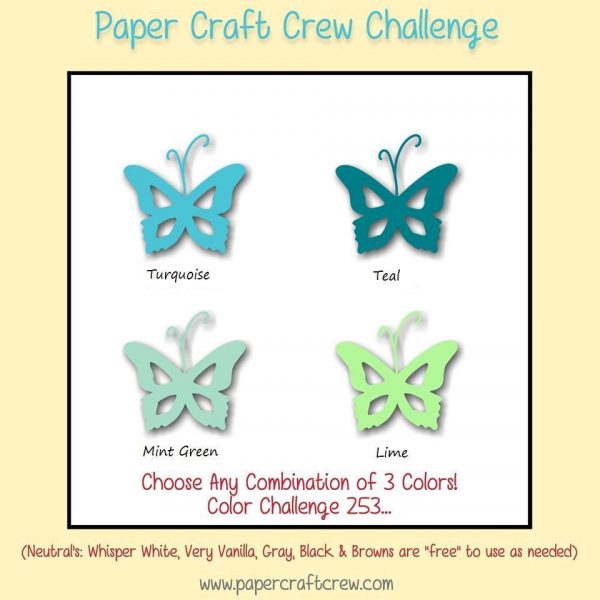 For my card, here are the colors I decided on and since I did not have any designer series paper with these colors, decided to make my own using the Ribbon of Courage Stamp set.  I cut a piece of Whisper White 6″ x 7″ and using different stamps, randomly stamped images all over, creating my one of a kind background paper. Once all the stamping was done I cut the paper into the needed sizes.
Turquoise → Tempting Turquoise
Teal → Dapper Denim
Lime → Lemon Lime Twist
The style of card I'm making is a Split Closure Tri Fold Card which I saw on Dawn Griffith's blog the other day. The card base is 5.5″ x 11″, scored at 2 15/16″ and 7″, with a slit cut 2.5″ down on the larger end piece and 3″ long, this lets the left side tuck into the right. To finish off the card, I added thin strips of Lemon Lime Twist and from the Support Ribbon Framelits, die cut flowers and leaves. Clear faceted gems finish off the center of the flowers. On the inside, using Dapper Denim I stamped a greeting and couple little hearts.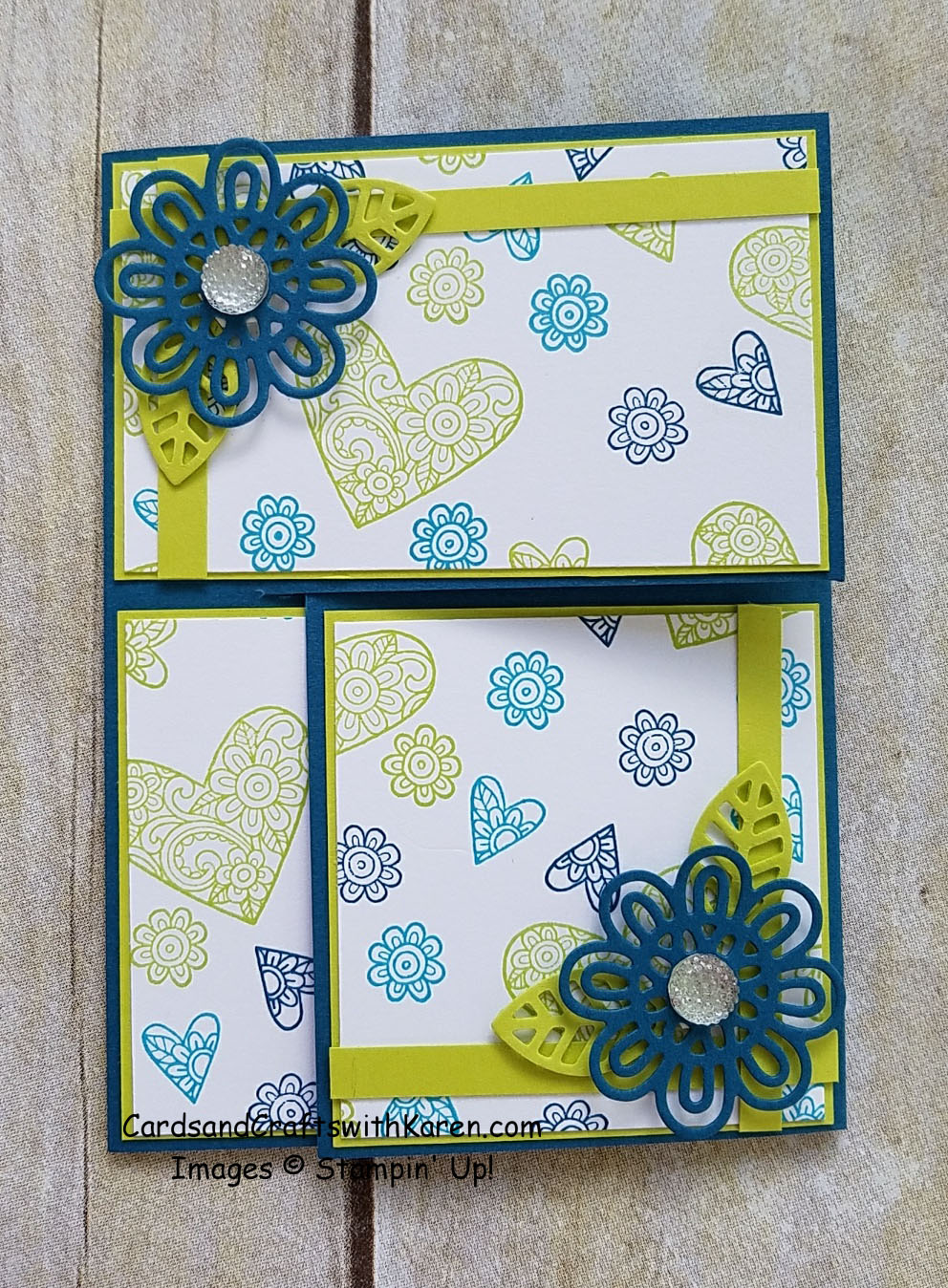 Inside of the card: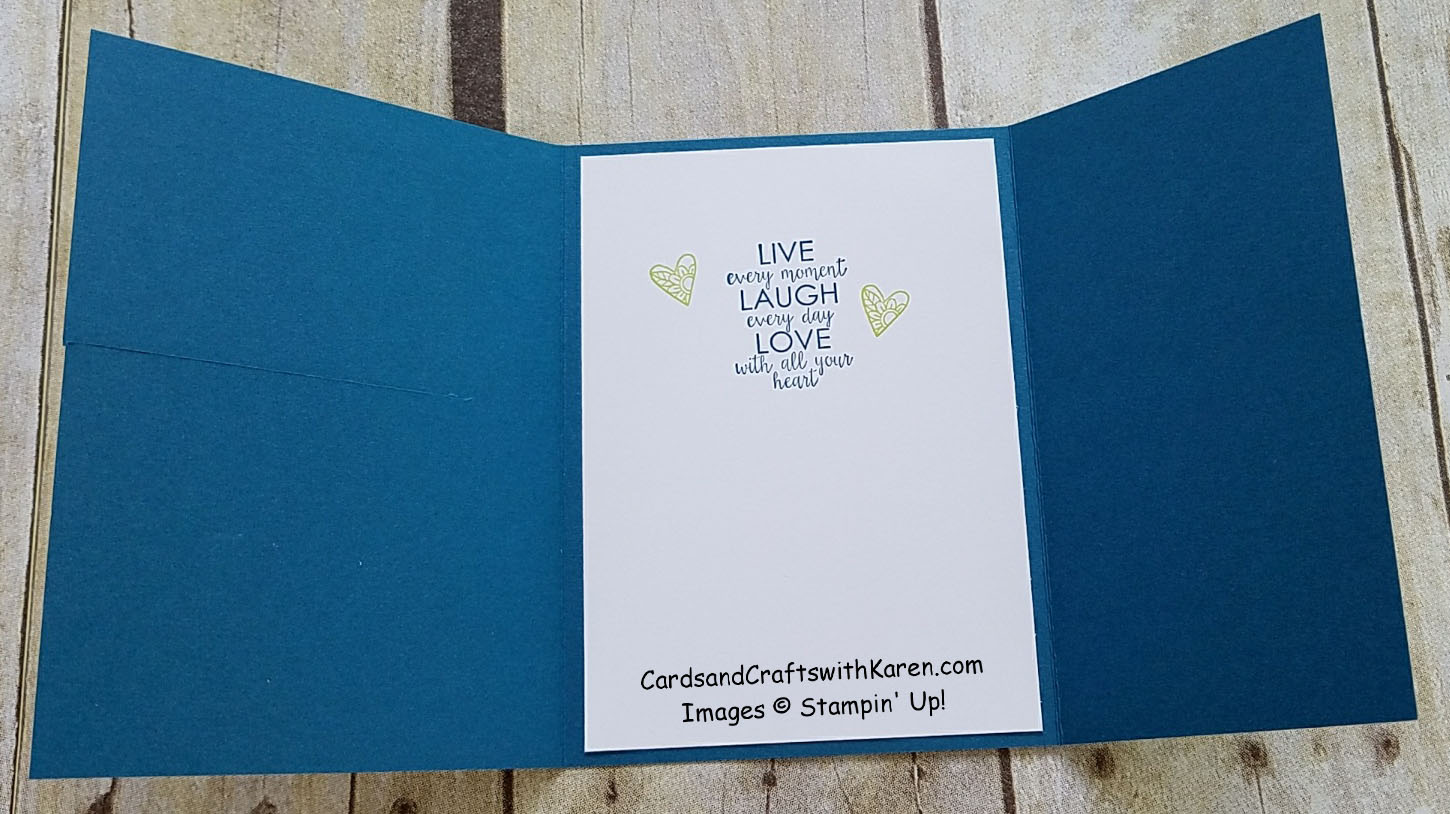 Pieces of Whisper White cut for the card:
Outside right (smaller side) – 2 1/4″ x 2 5/8″ and 2 3/4″ x 2 5/8″
Outside left (larger side) – 2 1/4″ x 3 3/4″ and 2 3/4″ x 3 3/4″
Inside – 3 3/4″ x 5 1/4″
Thank you for taking the time to stop by, hope you are inspired to try making cards.
Have a great day – Craft On!
Remember to add your order to the current Host Code EKUSG6HS and check demonstrator contact, I'll happily send you a re-useable thank you card and small thank you gift.
If your order is over $150, I hope you'll use all of the Host Rewards you've earned.  Otherwise, I'd love for you to add your order to the current Host Code EKUSG6HS.
Click on any of the images below for more product information and to order directly from my on-line store.
Remember, July 1 – 31 – – – Bonus Days Important Details:
Keep you codes! Save both the email containing your Bonus Days Coupon and write down the coupon codes in a safe place. Codes cannot be resent if the email is lost and lost codes cannot be recovered. Demonstrators do not receive copies of your codes.
Requires Email Address – An email address is required to participate, bonus codes are only received via email.
No Limit! There is no limit to the number of coupons you can receive per order or throughout the length of the program. Example, if your order is $101.00 (before shipping and tax) you receive 2 bonus codes.
Happy Shopping!