Happy Monday, welcome to the week. Not sure about you, but it takes me a few days to get use to it being lighter earlier in the morning and darker sooner at night. I forgot the change one of the kitchen clocks and it through me off this morning. Fun story about the clock in my car, a few years back in spring I couldn't figure out how to change the clock (and I'm not a direction reader) so I just waiting until my nephew (40 years younger than me) was here for a visit in the summer and asked him if he knew what to do (they had the same type of car) and he said "Aunt Karen just press the button with the H for hour and M for minute", safe to say changing the time in my car is one think I remember how to do!
Today's card is for the Can You Case It weekly challenge, fall edition. Don't forget to check out their blog.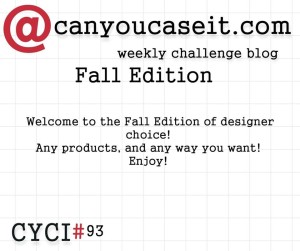 Let me say first that I am a dog person, but the cat image is perfect for this card.  To make my card I decided to use the Festive Fireplace and Happy Scenes stamp sets, I liked the idea of the cat sitting at the window looking out at the birds. Let me tell you how I made the image in the window. First I stood in front of my ink pad catty and pulled out about 9 colors (Hello Honey, Pumpkin Pie, Tangelo Twist, Rich Razzleberry, Cajun Craze, Soft Suede, White Craft ink, Early Espresso and Sahara Sand). First I stamped one image of the tree and birds using Early Espresso on thick Whisper White and another on a piece of scrap paper and cut the scrap paper on at the horizon line to create two masks. Using sponge daubers and the ink pads I sponged the colors (light to dark) to create the sky and earth, masking the part I didn't want to get the colors on. Colored the birds with a red sharpie. Next I die cut the window frame, ledge and cat and sponged on color for depth. There are dimensionals between the scene and window frame. Sentiment and linen thread finish off the card in the upper right corner.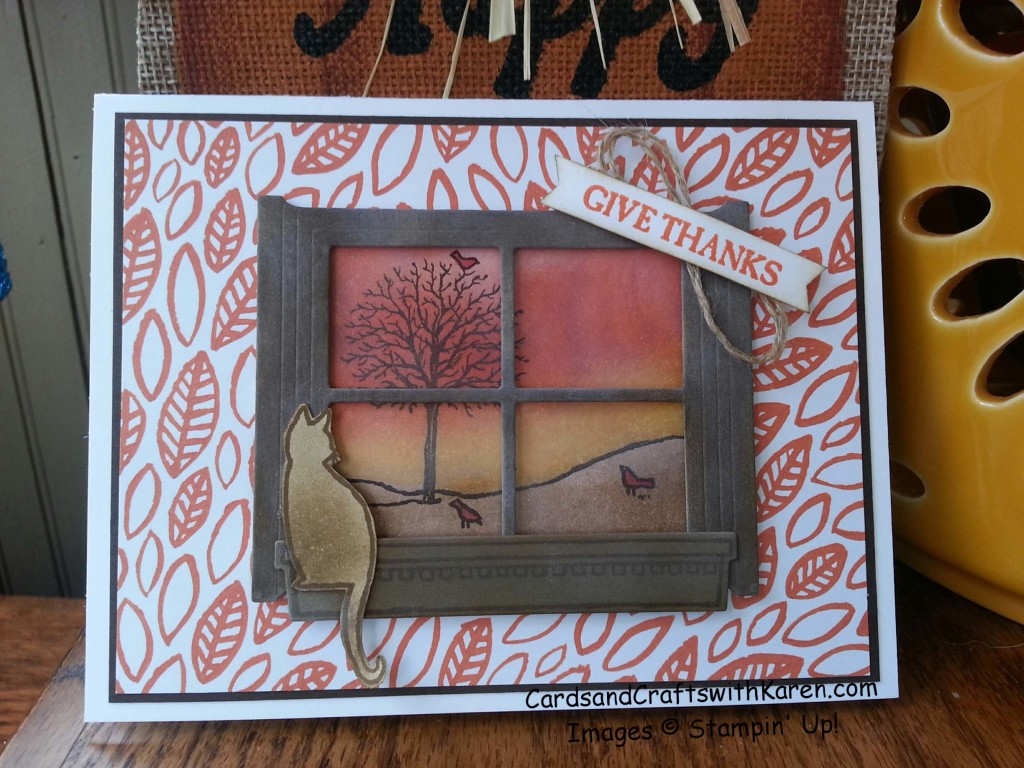 Thank you for stopping by today, hope you liked my card. Click on any of the images below for more product information or to place an on-line order. Have a great day, Craft On!