Today I am sharing with you a card I made and sent to my nephew Jake, a freshman at the University of Delaware. Thought he would enjoy the mail and I wanted him to know his Uncle Dan and I are thinking of him. My plan is to send him cards a few times a month, some with a little surprise inside!
Let me start my telling you how I made the background of the card:
Cut ½" strips of paper using the Moroccan Designer Series Paper (DSP)
Cut piece of Very Vanilla to 3½" x 4¾"
Run Fast Fuse all over one side of the Very Vanilla
Start with one piece of DSP and adhere from left to right at an angle
Follow that with two pieces at the opposite direction to create what looks like a x
Add additional pieces of DSP to create the image, don't worry about pieces hanging over the edge once you have all DSP attached, turn over and trim any extra paper
Adhered to mat of Cajun Craze 3¾" x 5″
Before I adhered background piece to the Very Vanilla card base it looked like it needed something extra, I used a Delightful Dijon Marker to spritzed the edges only, then adhered the background piece and really like how it turned out, it's just what it needed.
This background is a great way to use designer series paper, especially if you have those scraps you are not sure what to do with.
The greeting is from the same stamp set and stamped in Cajun Craze on a 1″ banner.  I took a piece of Very Vanilla Thick Bakers Twine separated the strands, adhered to the end of the left side of the banner with a few glue dots and adhered the acorn with dimensionals.  The acorn is stamped in Delightful Dijon and Dapper Denim.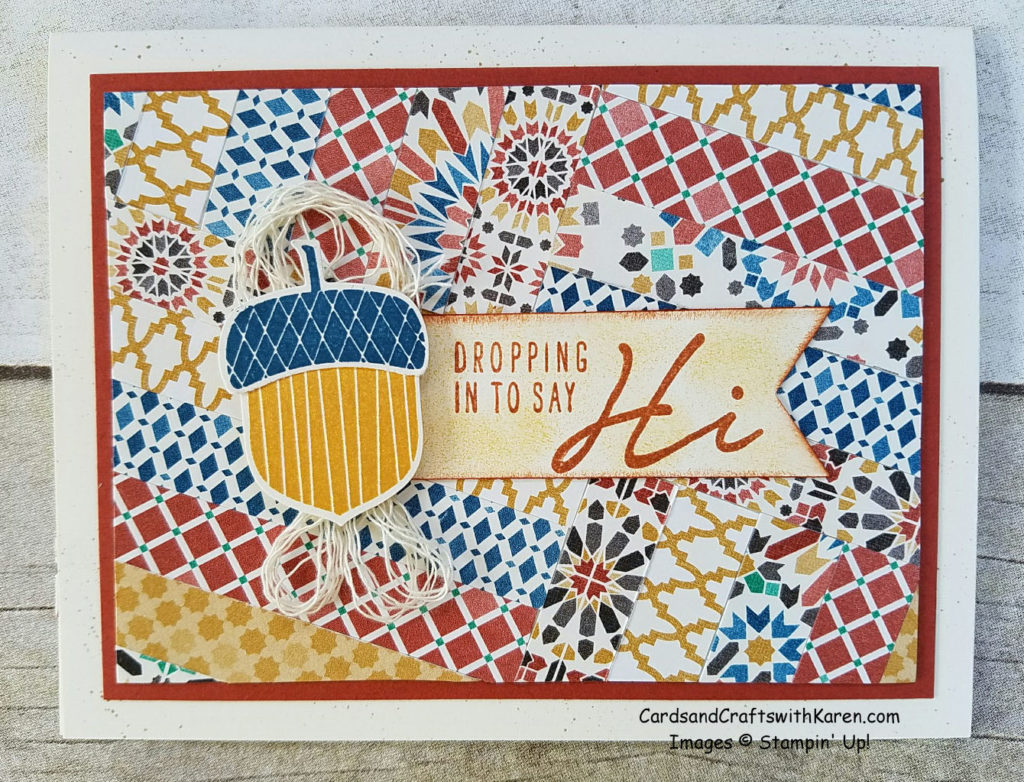 Hope you liked the card. If you would like to make a card like this yourself the supply list is below with a link to my online store. I would greatly appreciate your business. Everyone who orders from me receives a handmade card and small gift.
Have a great day, Craft On!
Supply List