Welcome to Simple Saturday, one stamp set for one card.
For the longest time, I didn't think I needed this stamp set or the matching Fruit Stand Designer Series Paper, well was I wrong. Today I am featuring the stamp set only. In a future Simple Saturday I will combine the paper and stamp set. This is an extremely versatile set and I'm having tons of fun with it, it's now a must have in my opinion.
Today's card uses the same images first stamped a few times full strength then a few more using the 'stamped off' technique. Stamped off is when you ink the image, stamp on scrap paper then on the good paper for a lighter image. I did this with both the fruit and leaf images to create my own designer series paper to use for the card. Remember to make sure some of the images are stamped off the paper so it looks like you cut your piece of a larger piece of paper.
Layers:
Card base: 8½" x 5½", scored at 4¼"
Cucumber Crush Mat 5 3/8″ x 4 1/8″ (die cut the scallop circle out of the center to save paper, no one will know)
Whisper White 5 ¼" x 4″
Burlap Ribbon – attached with glue dots
Cucumber Crush Scalloped Edge Circle – attached with Stampin Dimensionals
Whisper White Circle
Peach card stamped using the new In-Color Peekaboo Peach:
Plum card stamped using Perfect Plum Ink: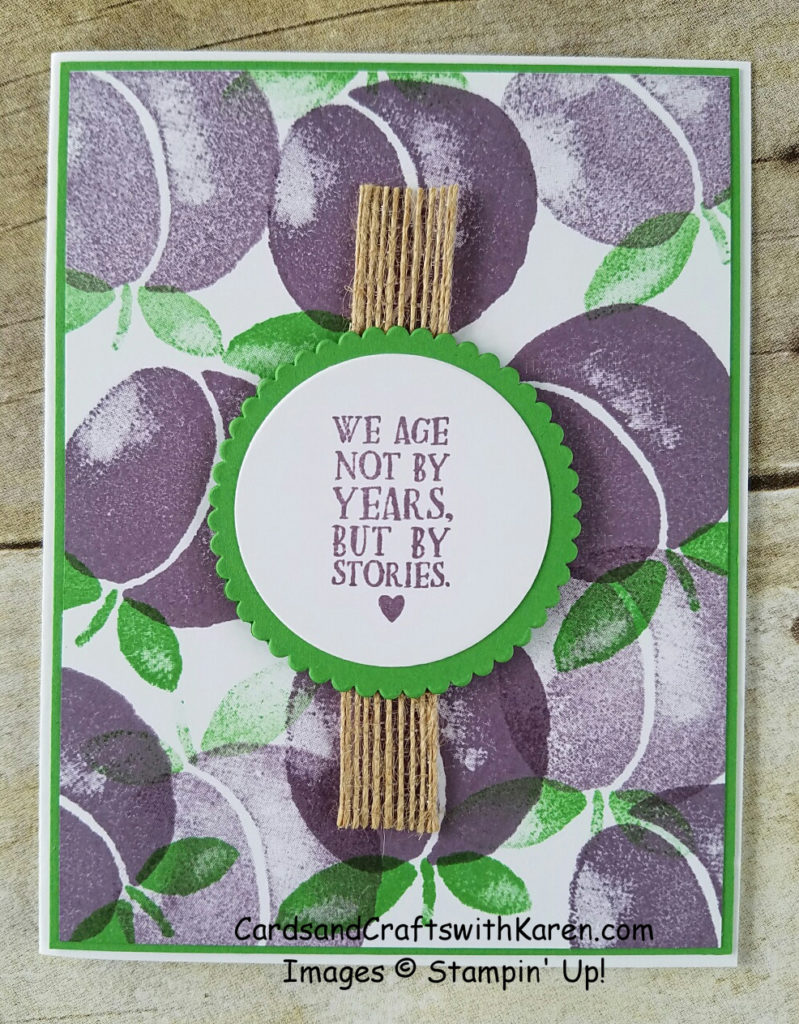 Thank for stopping by, have a great day – Craft On!
Supply list below with link to my online store so that you to can make easy cards like this. All purchaser will receive small gift and handmade card in the mail, happy shopping.