Normally on Saturday's I post a Simple Saturday card using one stamp set to make a quite, easy, simple card, but . .
Today is our 28th Wedding Anniversary and I'm taking the opportunity to post the card I made for my husband featuring the Number of Years bundle. I have to admit the card is using one stamp set, but includes multiple stamping and using the Big Shot to die cut the numbers and label. One thing you should know about this stamp set is that the images, including the numbers, are meant to look distressed causing the images to vary in depth of color.
To get started a stamped the leaves on the top and bottom of a piece of Whisper White 4″ x 5¼" and across the middle of the label (created with a die from Lots of Labels). Next I stamped Blackberry Bliss and Hello Honey flowers, some using the stamp off then stamp on card technique. In the center is a piece of Blackberry Bliss and Whisper White defining the middle of the card. On the label I stamped Happy th Anniversary. Numbers are stamped in Blackberry Bliss and die cut with a matching die. Both the numbers and label are adhered with dimensionals.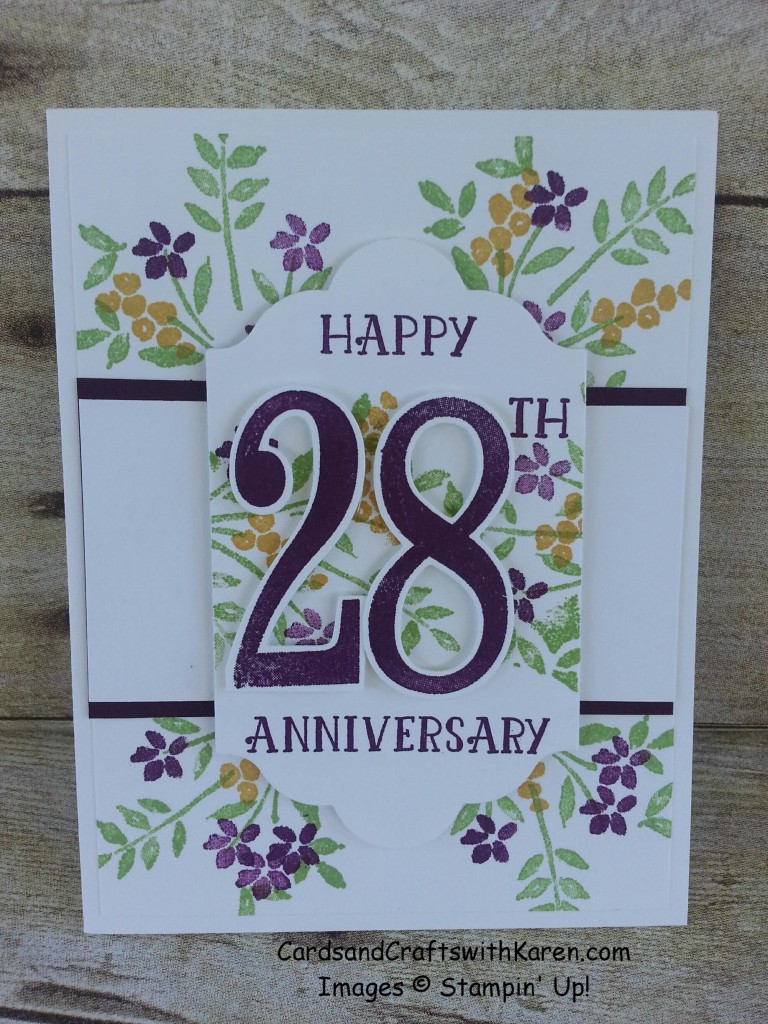 Today we will be enjoying watching the Penguins play the Flyers, the same teams that played on our wedding day!
Thank you for stopping by today, have a great day, Craft On!
Click on any of the images below for easy online ordering or more product information.