Today I thought I would share with you the cards we made this past weekend with my Sunday Stampers.
All the rage right now are Pop-Up Twist Panel cards, so of course we had to make one :).  The base for the card are three pieces cut from a 12″ x 12″ piece of card stock.
Card base – 4″ x 11″ or 12″, scored in the middle
4 Panel Pop Up – 10″ x 3.5″, scored on the 10″ side at 2.5″, 5″ and 7.5″
Pop Up Mechanism – 8″ x 3.5″, scored on the 3.5″ side at 1.75″  and then on the 8″ sides (both) pencil mark at 2.25″ and 5.75″, score to opposite measurements to form "x"
The card also used the Cookie Cutter Christmas Bundle for the Gingerbread men and Reindeer, Candy Cane Lane Designer Series Paper, Real Red and Early Espresso card stock.
The other cards we made used the Star of Light and Paisley & Posies Bundles. Both cards used foil sheets for added bling, the new copper foil really goes nice with the Petals and Paisley Designer Series Paper.
For the Star of Light card we used Whisper White, Cherry Cobbler and Gold Foil. Any color combo would work, why not try Night of Navy with Silver Foil, Elegant Eggplant with Silver or Copper, or even use two colored cardstock like Emerald Envy with Mint Macaron.
With Paisley & Posies we used Delightful Dijon and Rich Razzleberry Card stock and ink pad. with Very Vanilla.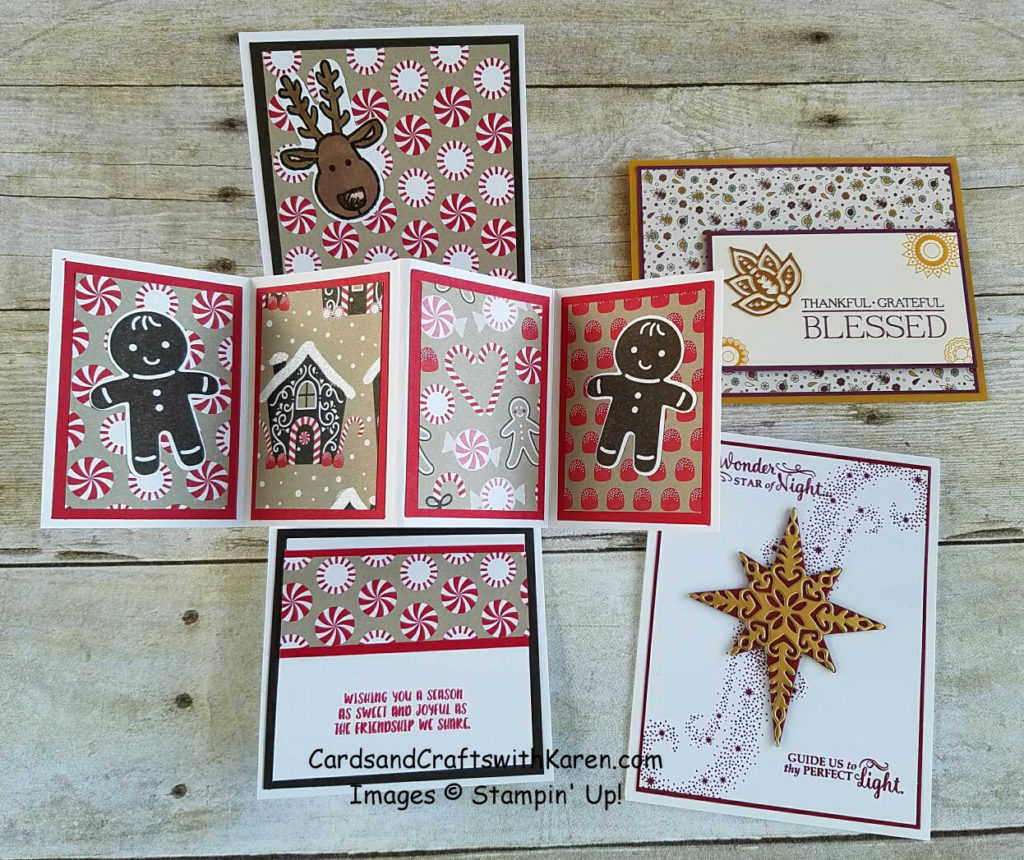 Thank you for stopping by today, have a great day – Craft On!
Supply list below for products needed to make today's cards. I'd really appreciate your business and will send a small thank you gift and handmade card to all those who order.