How's your weekend been? Saturday was really cold with a high of about 15 degrees and the sun was out all day.  Today is rather  gloomy as we are expecting a possible ice storm depending on where the rain/snow line ends up. Even though my football team is out of the playoffs, I've been watching/listening to the games all weekend, most have been rather exciting. Last night we watched the Penguin vs. Montreal game with friends. Game went into overtime and we won on a goal by Sydney Crosby. It's always better when we win!
Card for today is for the Paper Craft Crew Card Sketch challenge using the new Painted Petals stamp set from the 2015 Occasions catalog.  The Painted Petals stamp set is one of the sets in the catalog that can be purchased in either photopolymer, clear or wood, one of the new features of this catalog.
To make the card I started with a piece of Painted Blooms Designer Series Paper and used various colors that coordinated. The top folding card base is Blackberry Bliss, with a mat of Daffodil Delight and Designer Series Paper. A piece of Blackberry Bliss Satin Ribbon covers the seam with a bow on the left side. Stamped one of the flower images from the Painted Petals set in Daffodil Delight  and stems in Wild Wasabi on Whisper White matted on Wild Wasabi.  Greeting is stamped in the middle in Blackberry Bliss. Piece of Soft Sky is the accent on the top right, topped with a Wild Wasabi heart. On the bottom, there is a piece of Gold Glimmer paper behind a piece of Soft Sky that has been punched with the Hearts Border Punch. To attach the gold to the soft sky, used the Handheld Stapler on the right side only and hid the staple with a Blackberry Bliss Starburst.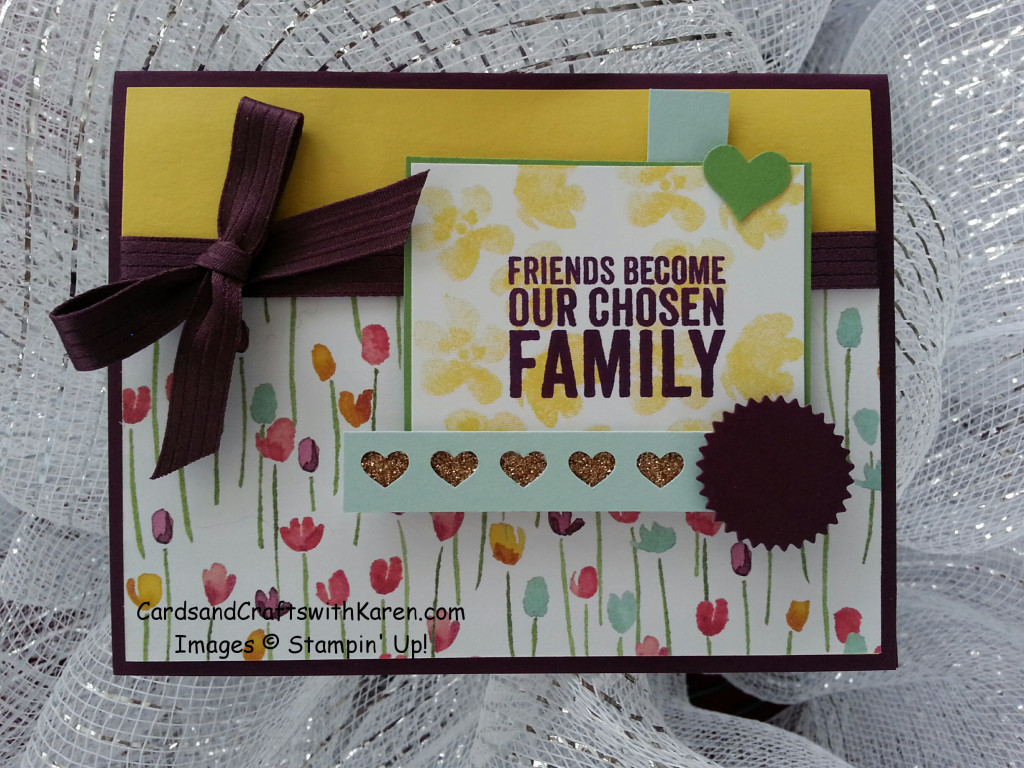 Thank you for stopping by, if you've enjoyed the card, leave a comment below or even a suggestion on something you would like to see in an upcoming blog. Have a great week, Craft On!
Card Making Supplies: Built for Free Using: My Stampin Blog