Looking for some fun crafting each month? Then Paper Pumpkin may just be for you. With a Paper Pumpkin subscription you receive an "Orange Pumpkin" box each month with a fun new craft. Some months are cards, other are projects like goodie bags, treat holders, always something fun. Each month your kit includes a stamp set and all the supplies needed to create the project.
Click on the image below to see the March 2017 Paper Pumpkin YouTube video!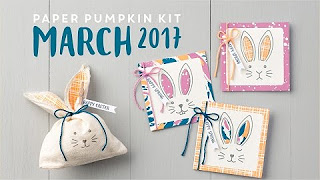 We turned creative control of our April kit over to CEO, Sara Douglass, and the end result is stunning! Her style is, "bold, vibrant, and artistic—with a little bit of sass," which is exactly how she described the kit. Sara designed this kit for you and your customers, so you can discover creativity through the eyes of our CEO while having an experience that is uniquely YOU! Embrace your inner artist and skip to the fun with Sara.
As if a kit designed by Sara is not reason enough to sign up, there's more! She's including a FREE gift inside every April box! We're keeping it a surprise.
What do you need to do? It's simple—sign up at PaperPumpkin.com by April 10.
Preview of April Paper Pumpkin with Sara, click on the image below for the video:

Solve your creative fix with two great ways to purchase Stampin' Up! Paper Pumpkin kits.
3 month Prepaid subscription  $55
12 month Prepaid subscription  $215