Not only are stitches a classic trend, they illustrate the quality, precision, and extra care taken when creating a piece. Giving a stitched gift shows just how much you value that relationship. Now you have the opportunity to purchase the Stitched Shapes Framelits ahead of their official release in the 2017-2018 Annual Catalog and get 25% off coordinating stamp sets ♥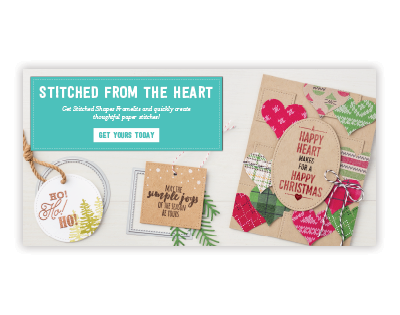 With Stitched Shapes Framelits you can make paper stitches in seconds, turning any project into one that is stitched from the heart ♥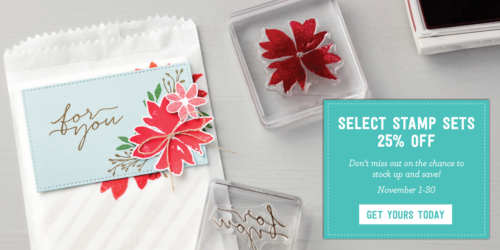 Did you notice Stampin' Up! created the rectangle from a square "stitched" die in the sample above. Here is how you can do that to!
Line up the framelit on your paper so one end of the framelit and the paper are off the platform. You only want to cut three sides of the square. Run it through the Big Shot.
Rotate your paper and carefully line up the framelit with the cuts of the first run.  Make sure that one end of the framelit and paper are off the platform, so it doesn't cut a line down the middle of your rectangle. Then run it through the Big Shot.
Stitched Shapes Framelits Dies coordinate with the Stampin' Up! Layering Circles, Squares and Ovals Dies!  Here are the approximate sizes of the Stitched Shapes Framelits Dies:
Circles:  1-3/8″, 1-7/8″, 2-3/8″, 2-7/8″
Squares:  1-3/16″, 1-5/8″, 2-1/8″, 2-5/8″
Ovals:  1-3/4″ x 1-3/16″, 2-1/4″ x 1-5/16″, 2-3/4″ x 1-13/16″, 3-1/4″ x 2-5/16″.
To make it even better Stampin' Up! is offering 25% off select stamp sets that coordinate beautifully with the dies.
25% Off Select Stamp Sets Nov. 1 – 30 ONLY!

I'm confident the Stitched Shapes Framelits  will be on your "must have" list, after watching the STAMPIN' UP! VIDEO below.  Dies available for purchase today!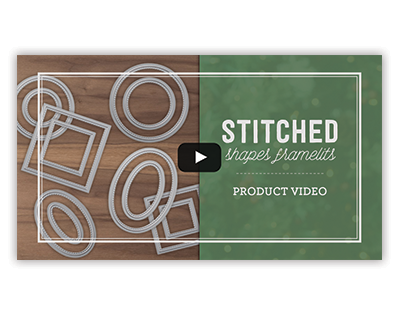 Special Purchase offer, only from me, for the month of November: Purchase the new Stitched from the Heart Framelits and any stamp set and receive a package of Pearl or Rhinestones Basic Jewels from me as a thank you, along with a handmade card.  Please use hostess code ECY724AN when ordering.
Thank you for stopping by, have a great day – Craft On!   Happy Shopping!