Today,  June 1, 2017  the new Stampin' Up! catalog goes live! Falling in love with all the Exciting New Products.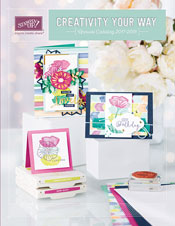 I'm sure you have seen the list already, if not here are the new names of the new 2017-2019 In-Colors:
Fresh Fig
Powder Pink
Lemon Lime Twist
Tranquil Tide
Berry Burst
Here is a combination list Stampin' Up! put together to help you get started.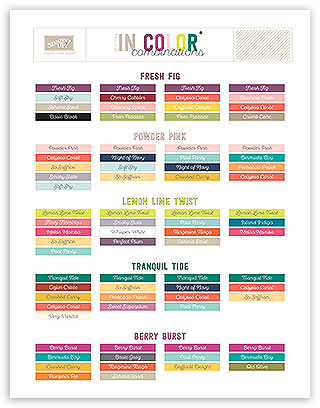 Click, 2017 In-Color Combinations, to download and print your own sheet of the new 2017-2019 In-Color Combinations provided by Stampin' Up!
Below you will find all the new In-Color products available today.
Click on the images above to go directly to my on-line store and view all the great new items!
Thank you for stopping by. Have a great day – Craft On!
When you spend at least $50 with me and add your order to the current Host Code R4FSMFBJ, making sure to check demonstrator contact, I'll happily send you a re-useable thank you card and small thank you gift.
If your order is over $150, I hope you'll use all of the Host Rewards you've earned.  Otherwise, I'd love for you to add your order to the current Host Code R4FSMFBJ.
June 1 – 30, 2017 receive $35 in BONUS free Stampin' Rewards from Stampin' Up!. This bonus applies to individual customer orders as well as on-line orders.
Click on any of the images below for more product information and to order directly from my on-line store. Happy Shopping!