Don't let the look of this card worry you, it's really rather easy, all you need is your Stampin Up Trimmer and some cardstock. Depending on how you decorate the card, you still have a  4¼" x 5½" card that fits in an A2 envelope.
The basic pieces for the card are a piece of card stock 4¼" x 5 ½" for the back and one piece for the left and right "bendy" flaps.  The flaps are made from another  4¼" x 5½" piece of card stock cut into two pieces –  1¾" x 5½" & 2½" x 5½". Each of the flaps have a score at ½" on one end and ¼" on the other.  The ½" score is used to adhere the flap to the left side (as you face the card) and the ¼" score is used to create the tab (I just free hand cut a tab).  To adhere flaps, crease the score and glue or use Tear n Tape to adhere to the back of the card. Slits are created on the back piece 2″ from the right side and on the left flap 1¾" from the left side.  I fresh handed with a pencil where I needed the slits and used my trimmer to make the cut, just erase any left over marks. To get the "bendy" to run your bone folder over the back of the paper to shape it.
One suggestion I have is to make a sample card first, before making your good one. This way you see how the card goes together and if you want to move the slits around. The measurements for the slits are up to you, they don't have to be at the measurements above, move them to meet your decorating needs.
Once you have the card base made, decorate to your hearts content!  I used flowers from the Falling Flowers Bundle, Swirly Scribbles Thinlits and Sunshine Sayings bundle.  Sunshine is backed with the new foam adhesive strips and brushed with Gold Wink of Stella. Some of the flowers and leaves also have a little Wink of Stella as well. Just keep in mind to mail the card, you need to unbend and the card should lie flat for the envelope, or you can always make a matching envelope for the card. Finish touches were some Rhinestones in the center of the flowers.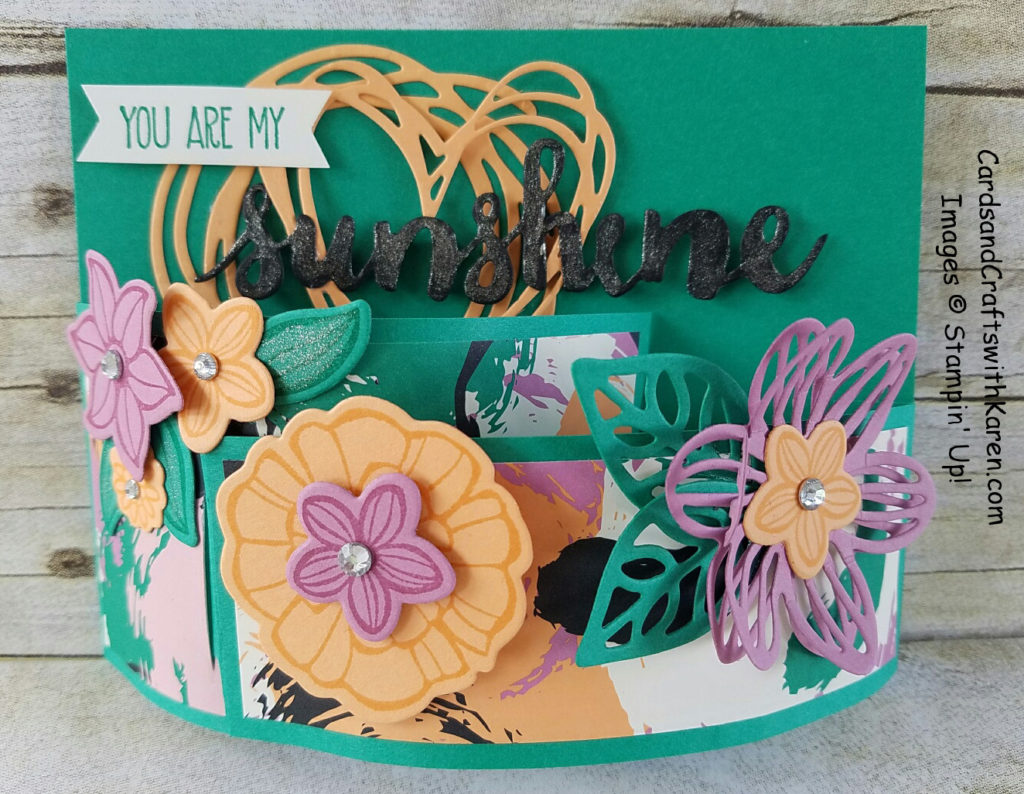 View from the top: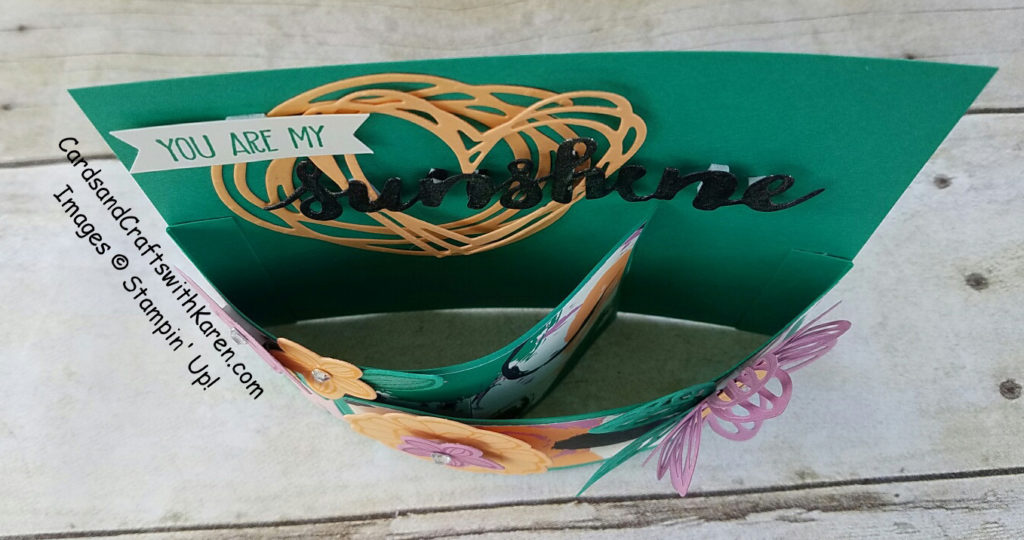 Supply list with link to my on-line store below.  Use Hostess Code 3J93YV3P with your online order and receive a small gift and a hand stamped card from me. Don't forget now through July 31 are Bonus Days, for every $50 spent before tax and shipping and you earn a $5 coupon from Stampin Up to use August 2-31 – – – Happy Shopping!
Thank you for stopping by today, have a great day – Craft On!