Have you ever thought of being a Stampin' Up! Demonstrator?  Love stamping?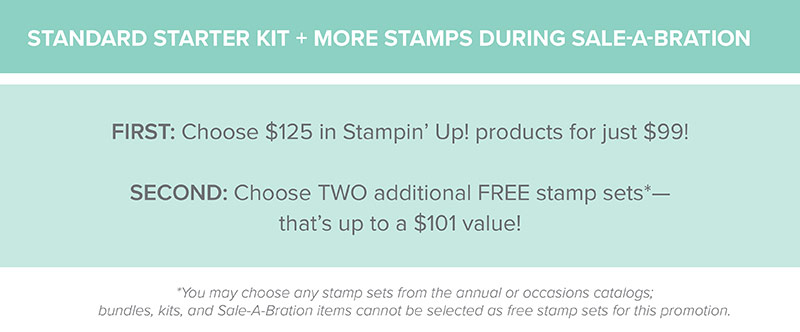 There are fantastic benefits of joining as a Stampin' Up! demonstrator during Sale-A-Bration. Joining at this time gives a new demonstrator their starter kit at $99 USD/$135 CAD, along with the choice of TWO additional stamp sets for their kit—any stamp set, any price. (Excludes bundles and Sale-A-Bration sets.) Plus, the kit ships for free!
Would you like to make some extra money doing what you love and save money on your favorite Stampin' Up! Products?  Then now is the time to join Stampin' Up!
One of the nice things about being a Stampin' Up! Demonstrator (besides meeting the nicest people) is that you can work it around your life and not the other way around.  Some demonstrators are full time, meaning it's their main job but for me it's different, I have a full time job in finance that keeps me rather busy during the week.
But, I LOVE to create, stamp and share my love of stamping with others!  In fact, the group of ladies I stamp with every month asked me to join Stampin Up so I could be their demonstrator when our demonstrator decided to go down a different path.  Creating projects to share and making with both you and them each month makes me happy!
Since we see each other every month, there's no presentation.  It's not like the standard party where Stampin Up is new to the attendees, my ladies already know how great the products are. Of course if asked, I'm happy to do a private party. It's fun for everyone because over time, everyone gets to know each other, we swap stories and do a show and tell of the projects created.  Being a demonstrator gives me the opportunity to earn some extra money and purchase products with a discount.
Each year since I've joined Stampin' Up!  I've taken vacation time from my day job to meet with other stampers, including members of my up-line and stamping community 24/7 stampers for convention (now called OnStage) in Salt Lake City.
I've been part of the 24/7 Stampers team for over 4 years. For my 5th anniversary, Stampin' Up! is going to give me some special points that I can cash in on free stamps, accessories or maybe even a free trip or to the convention in Salt Lake City.
Some of the benefits:
Demonstrator discount (20-25%)

Flexibility in setting your own hours and working from home

Support from creative resources including a quarterly magazine, demonstrator website filled with training, Stampin' Connection and the Demonstrator Business Web Services.

Beautiful, exclusive artwork and high-quality products for you and your customers.

A low-cost, high-value Starter Kit.

Opportunities to see and purchase new Stampin' Up! products first.

The Quick Start program, where you can earn FREE products.
Stampin' Up! events, where you stamp, learn, and have a blast with your fellow Stampin' Up! lovers!
A worldwide stamping family!
Grab your catalogs and pick out $99-$125 of stamps and accessories – that's before tax – and you'll even get free shipping!
Get your payment and personal information ready.
You'll have your own information and access to everything behind the scenes in minutes!
or Click here for the online application.