Happy Birthday to my wonderful niece Maya – Uncle Dan and I hope you have a great day!  Maya loves to craft and I always make sure to include a craft item in her birthday package.  She received her card early and loved it, hope you do as well!   Here is a picture of Maya from the first day of school this September.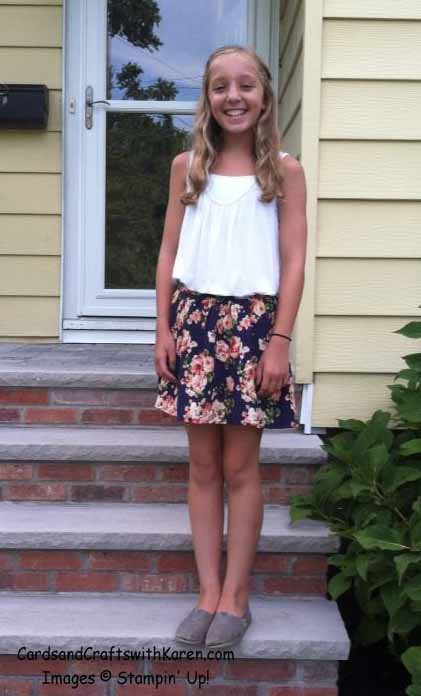 Here is the card I sent Maya for her birthday, her favorite colors are blue and purple and thought this was the perfect card.  For some reason I am hooked on 'wreath on door' cards and this design popped into my head.  Let me first start my telling you how I made the wreath, the secret is a "wreath frame" – two circle framelits die cut together to form a frame – once you have this its easy to make sure your finished project will look more like a wreath, the first coupleI tried  looked more  like eggs until I tried this.  At the bottom is a post of what the frame looks like before all the flowers are added.  Keep in mind, any shape will work – think I might try a square next.  The card base and mat are Sahara Sand, and the mat is stamped in Sahara Sand with Hardwood stamp.  Also stamped a matching banner for added depth.  There is a tea lace paper doily between the layer with Stampin dimensionals under the banner.   The flowers on the wreath are stamped/punched from the Petite Petals Stamp set in Wisteria Wonder, Elegant Eggplant, Pacific Point and Pool Party – Pearls complete the look.  The banner is Elegant Eggplant on Pool Party.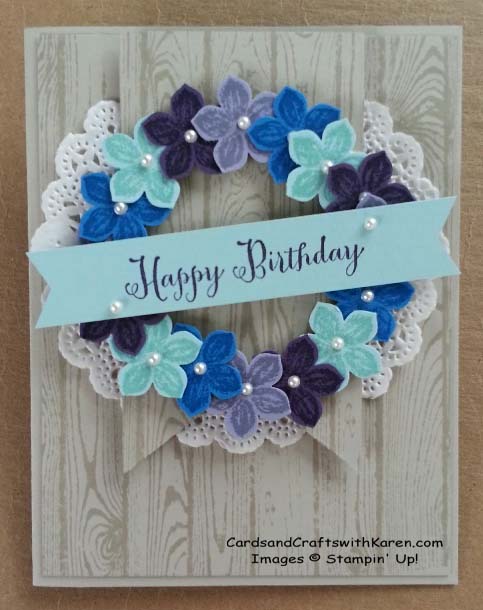 Thank you for taking the time today to visit, hope you enjoyed the card.  You can order at my time by clicking on either catalog on the main page.  Craft On!
Supplies (all Stampin Up):
Stamp Sets: Petite Petals, Hardwood and Remembering your Birthday
Paper: Sahara Sand, Wisteria Wonder, Elegant Eggplant, Pacific Point and Pool Party
Inks: Sahara Sand, Wisteria Wonder, Elegant Eggplant, Pacific Point and Pool Party
Framelits: Circle Collection and Banners
Punches: Petite Petals and Hexagon
Accessories: Tea Lace Paper Doily, Pearl Basic Jewels and Stampin Dimensionals
Here is what the wreath frame looks like: