Note to self – when you hear on the news there is a chance for icy conditions, pay attention when walking out the front door.  Saturday was not as productive as I had hoped.  I was up rather early for a Saturday, ran a load of wash, showered, had breakfast and started to help decorate the sun porch when I had a bad sinus headache hit so I took some medicine and sat down for a few minutes with my eyes closed. My husband says wake up Theresa is here and without thinking I grabbed the bag a had for her, opened the front door stepped out and bam – legs out from under me in a split and down on the cement I went!  Now when I saw her walking on the grass not sidewalk it most likely should have registered something was wrong.  Happy to report the bag of Stampin Up items survived, my big toe did not.  I received a few scratches and my big toe bent the wrong way and broke, not a fun afternoon.  Lesson learned, when the walkway is shiney watch for ice!
Now on to todays post for the Freshly Made Sketches Design Challenge.  Please check out their blog for designs by their team and other wonderful crafters like you and I!  Below is this weeks sketch.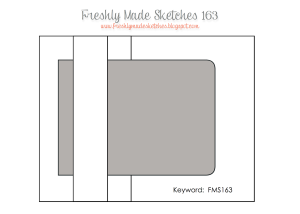 Since I need a birthday card this week that I need to mail, thought I would make a birthday card with multiple layers and is easy to mail with no added postage.  Started with a piece of Moonlight Designer Paper, matter on Smokey Slate and adhered to a card base of Basic Gray.  Focal image of Whisper White is stamped with Smokey Slate and Lost Lagoon using stamps from Gorgeous Grunge and Age Awareness. A candy dot ties the two swirl stamps together on the left side.  There are strips of Lost Lagoon and Hello Honey for added detail.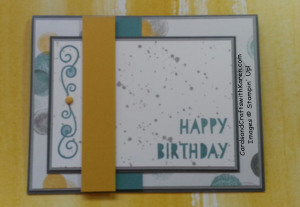 Thank you for stopping by, hope you enjoyed my card, Craft On!
Stamp Sets: Age Awareness and Gorgeous Grunge
Paper: Basic Gray, Smokey Slate, Lost Lagoon, Hello Honey, Whisper White  and Moonlight Designer Series Paper Pack
Ink: Smokey Slate and Lost Lagoon
Accessories: Stampin Dimensionals and Candy Dots