Recently a few of the 24/7 Stampers (the demonstrator group I am part of) got together and did a shoe box swap, since the group that met was in California and I'm in Pennsylvania, I participated via mail as did Marci Long in Texas.
A shoebox swap is when you bring a completely made card and all the parts ready to make the cards is a "shoe box" and you pass the box around any everyone makes the card.
Here's a photo of the cards I received made with both the Starter and Premier Product Bundles. The Premier bundle includes the Eastern Medallions Thinlits. Wish I could identify who made what cards, but they did not put their names with them except for Marci (top right card). Aren't they all beautiful!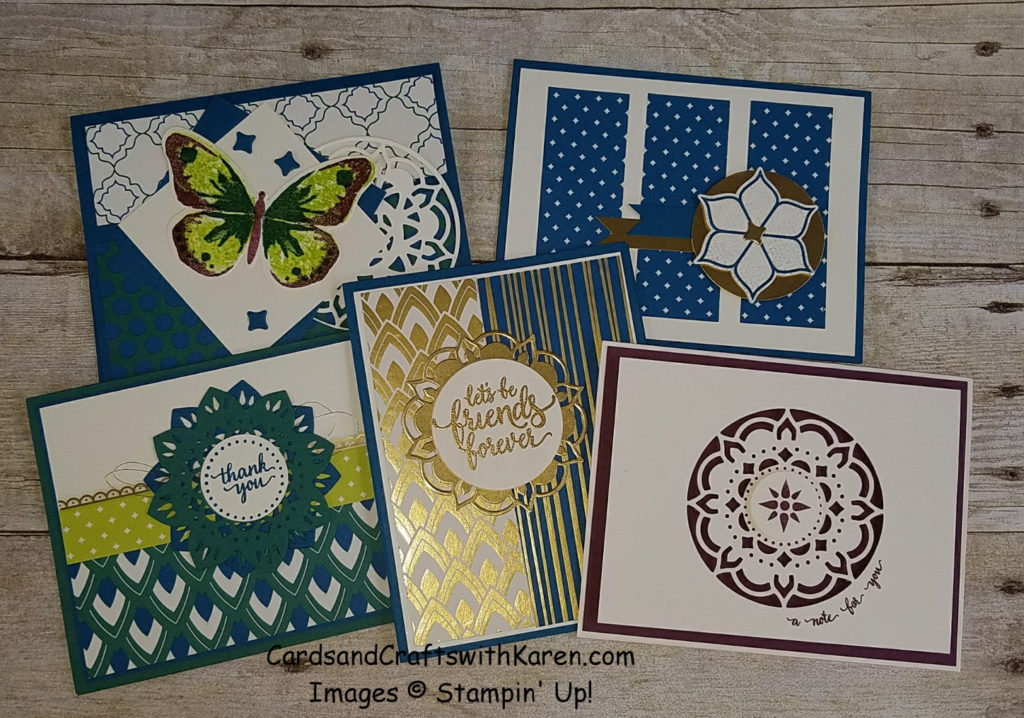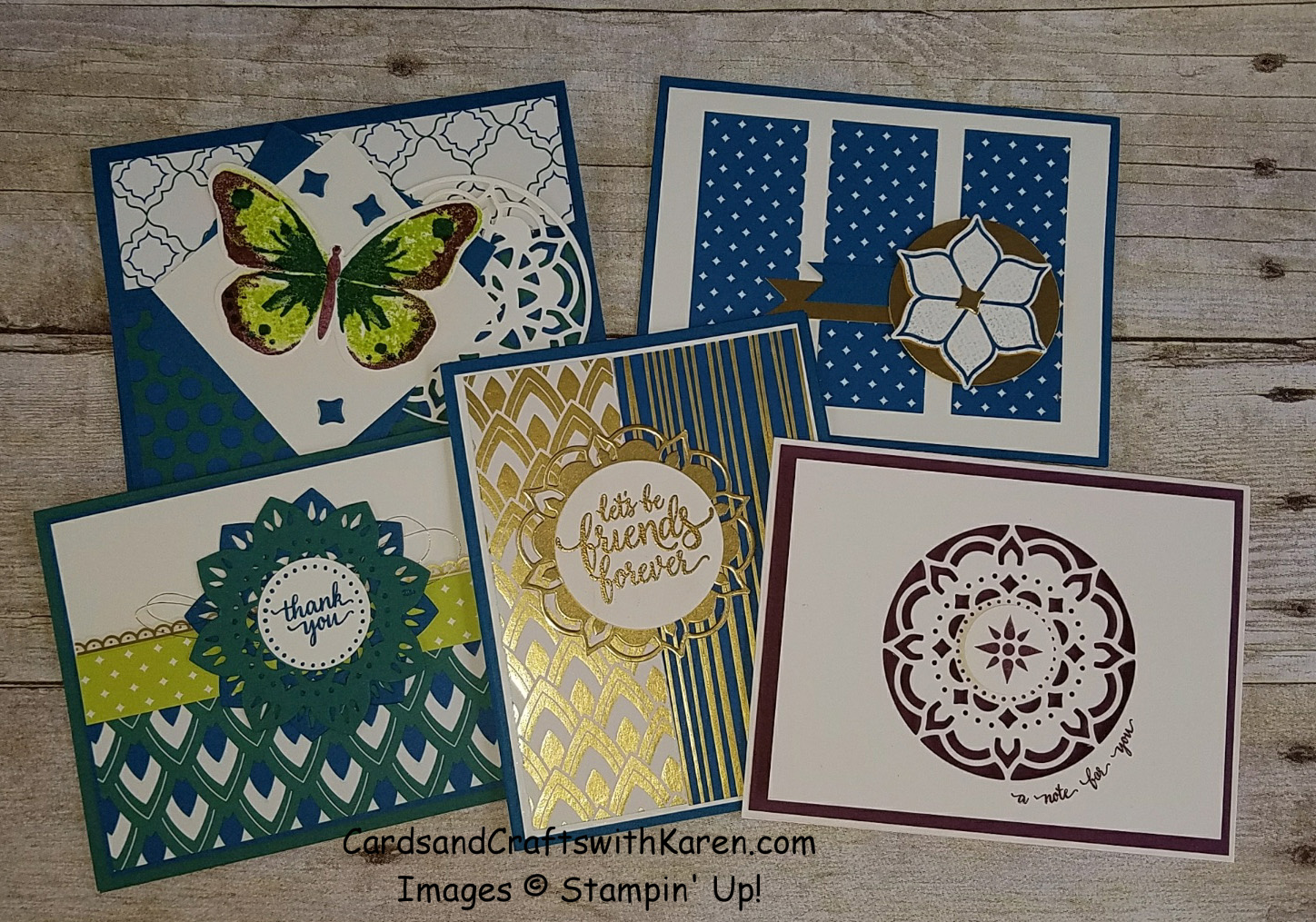 Starter bundle, perfect for the beginner, item#147196 is $60.50 and includes FREE Very Vanilla Note Cards and Envelopes. The Eastern Medallions Thinlits Dies are NOT part of this bundle.
Here's a more closer look at the top fold cards: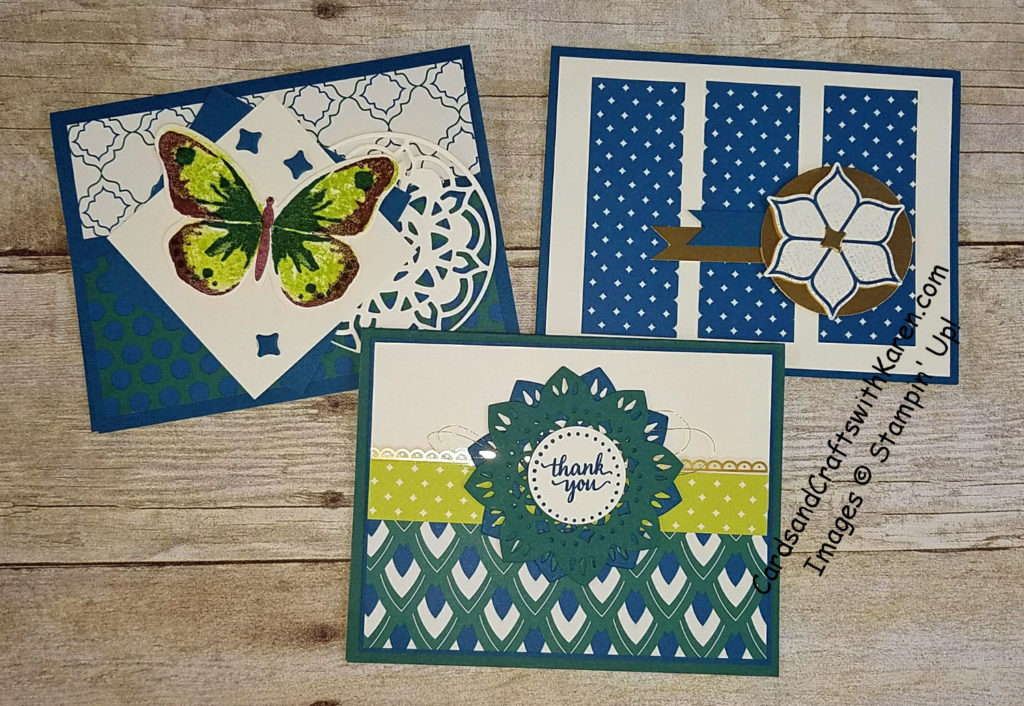 The Premier bundle, perfect for the intermediate or advanced stamper, item #147207 IS $103.50 and includes FREE Very Vanilla Medium Envelopes and the new Very Vanilla Thick Card stock (8.5″ x 11″). This bundle does include the Eastern Medallion Thinlits dies.
This card uses the Eastern Medallion Thinlits and Cherry Cobbler card stock.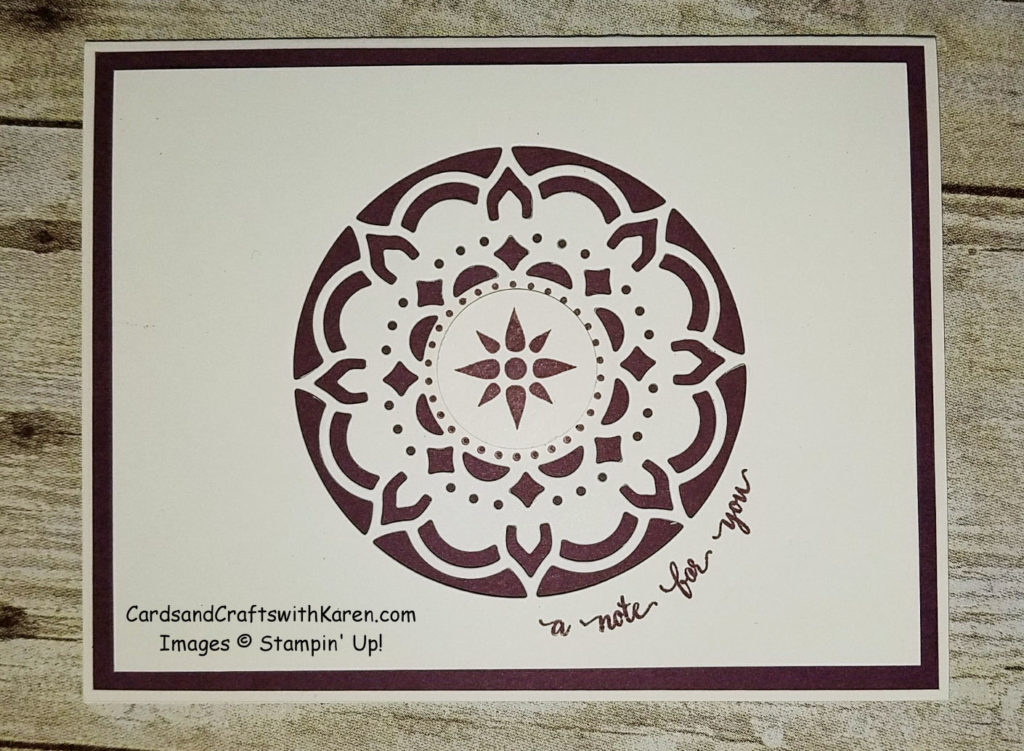 Both bundles include three of the new 2017 – 2019 In-Color ink pads:
Fresh Fig
Tranquil Tide
Lemon Lime Twist
Here is a close up of one of the cards which showcases some of the designer series paper, framelit and gold heat embossing.
Print Eastern Palace Flyer of what is included in the two bundles.
Here's some Eastern-Palace Card Samples to create three beautiful cards using the Eastern Palace Premier bundle.
Only the bundles are currently available, individual products will be available with the new catalog launch June 1st.
In conjunction with the Retiring List, I'm excited to share my very own promotion from now until May 12th.   When you spend at least $50 with me and add your order to the current Host Code (Z6XERXPX), I'll happily send you:
·    A printed copy of the 2017-2018 Annual Catalog (I send them to all of my current customers) AND
·    A Free Product from the Upcoming Annual Catalog. I'll send you an incredible, new accessory from the upcoming catalog when it's released in June.  While I can't yet tell you what it is, I'll tell you it's value is at least $5 and you'll love it!
If your order is over $150, I hope you'll use all of the Host Rewards you've earned.  Otherwise, I'd love for you to add your order to the current Host Code Z6XERXPX.
Click on any of the images below for more product information or to order directly from my on-line store. Everyone who orders from me and checks demonstrator contact will receive handmade re-useable card and small thank you gift. Happy Shopping!