Todays card is for the CanYouCaseIt weekly challenge, this week is the "Summer Fun Edition".  What do you think of when someone says 'summer'?
When I think of the summer one of the first things that come to mind are the ice cream cones we would get to end the evening on the boardwalk in Wildwood, New Jersey. From age 6 until around 25 each summer I would spend a week at the beach in Wildwood, first with my family and then as I got older with friends. Those are some wonderful memories, they range from: Mario's pizza, the Hot Spot, Nickel pitch,  the recording "watch the tram car please" to my dad breaking his leg doing a wheelie on a bike and the first time my now husband saw the ocean!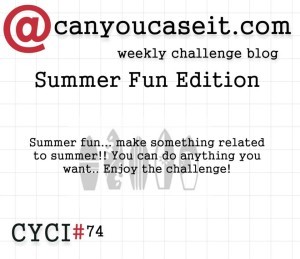 To make my card I knew I wanted to use Silver Stampin' Embossing Powder and Dazzling Diamond Stampin Glitter to make the ice cream sparkle. I used some of my favorite new In-Colors, Tip Top Taupe and Watermelon Wonder. The cone is in Tip Top Taupe and the ice cream is Bermuda Bay, Watermelon Wonder & Crushed Curry. Each scoop was heat embossed with Silver Stampin' Embossing Powder and dusted with some Dazzling Diamond Stampin Glitter.  The card base is Tip Top Taupe, with a mat of Watermelon Wonder and Whisper White, which was run through the Big Shot using the Boho Chic Textured Impressions Embossing folder. Before that layer was adhered to the card with dimensionals, a piece of Tip Top Taupe 1″ Dotted Lace Trim was wrapped around close to the bottom. The ice cream cone is backed with dimensionals. There is a piece of Watermelon Wonder stamped with the word Celebrate from the May Paper Pumpkin Kit (a monthly club where you get a book of craft goodies once a month). Card was finished with a couple rhinestones.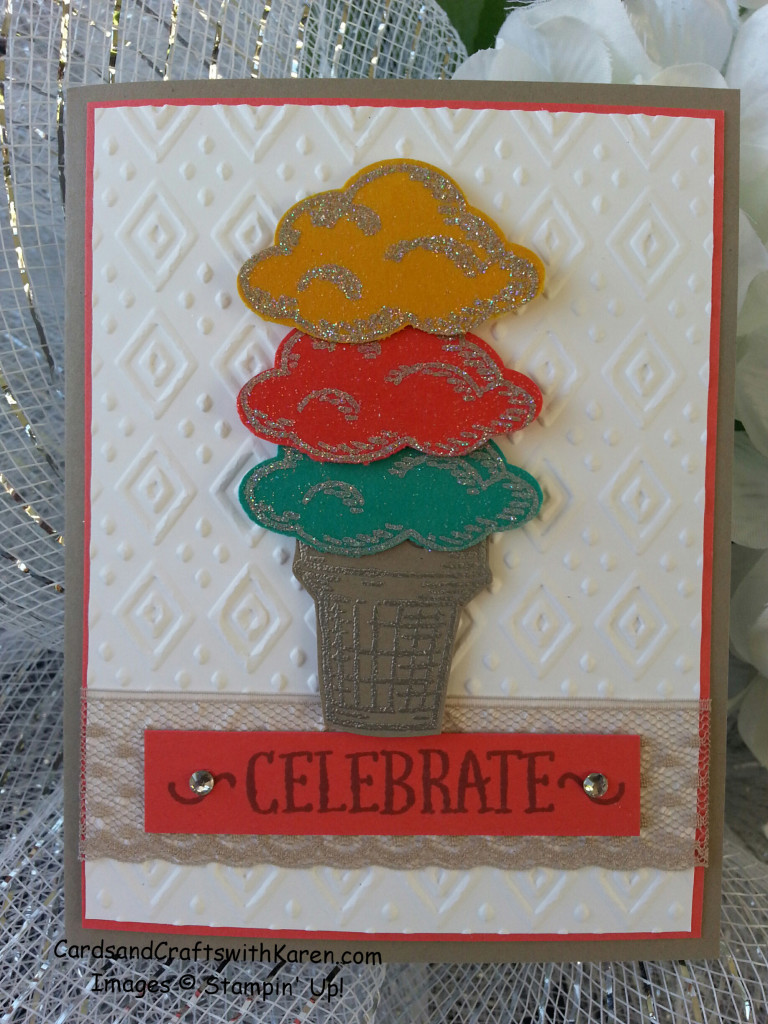 Thank you for stopping by, hope you liked card. For more product information or to place an on-line order, click on any of the images below. Have a great day, Craft On!