Happy Sunday! Today I will be stamping with my Sunday Stampers and thought I would share with you the cards we will be making. I'm using some of the retiring stamp sets and designer series paper, just remember any paper can be substituted to create the same card.
Sympathy cards are not something anyone likes to make, yet we all need them. I was asked if we could make some this month and I decided on two, one using the Wetlands Stamp set (which is retiring) and one using Rose Wonder. Either card could be used for various occasions. The Wetlands stamp card, is my go to design – sometime I use masking and sponge daubers for the background or even a swoosh style stamp. The ever famous Lovely as a Tree stamp set works well for this design as well. The choice of ribbon, bakers twine or even linen thread can take the card from masculine to feminine very easily.  The Rose Wonder card showcases a simple use for designer series paper, a label and a few die cut pieces, add an embellishment and you are done.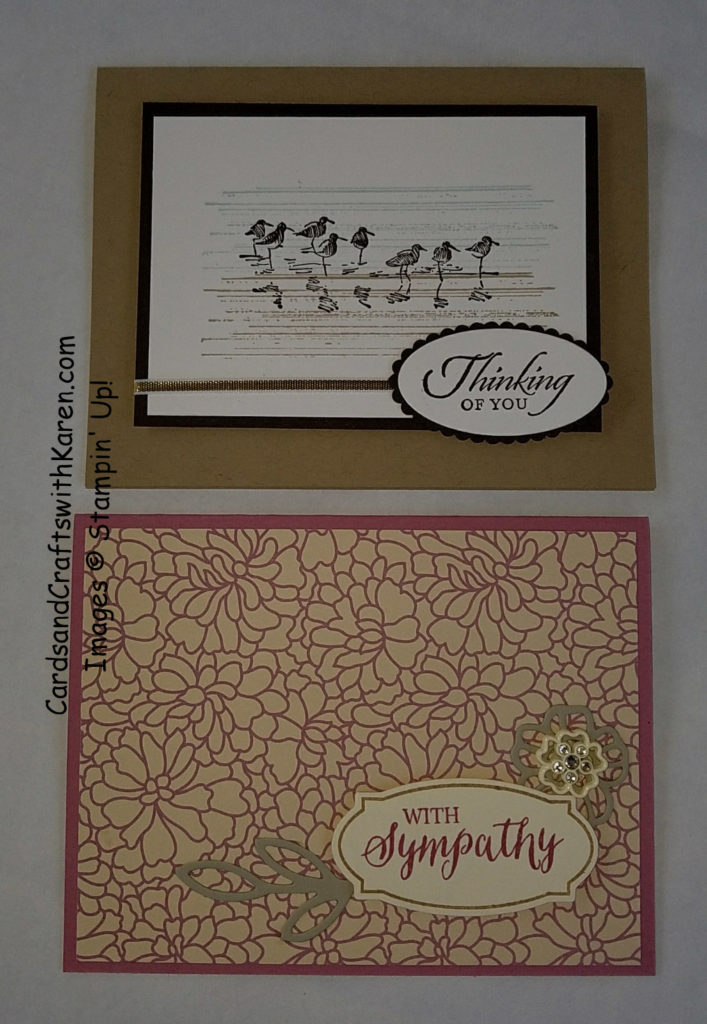 Since so much of the designer series paper is retiring I thought it would need if each person used a different paper for their It's time to Celebrate card with matching handmade envelope. Don't know about you but its been awhile since I used the envelope punch board and forgot just how much fun it can be!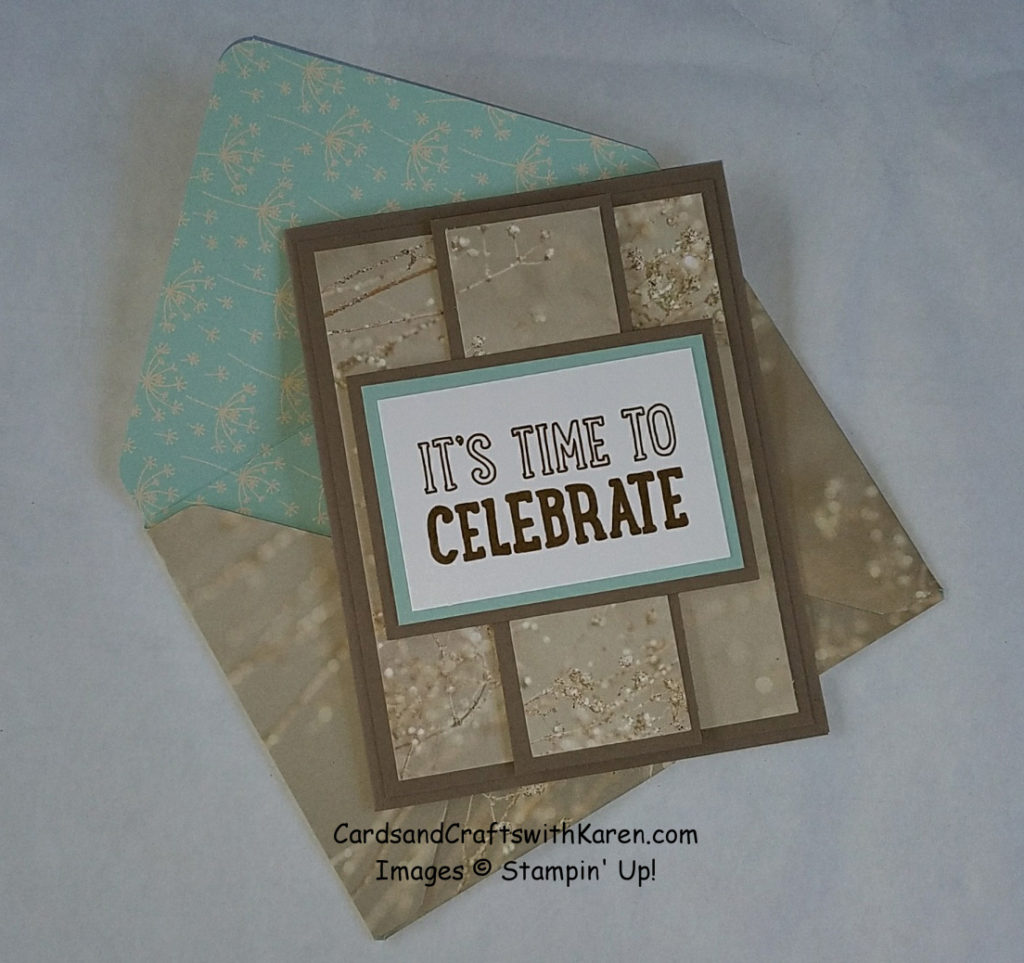 When I'm planning cards for my class quite often I make samples using retired or scraps of various papers to make sure I have all the dimensions correct and like the final product. As you can see from the photo below, the Celebrate card, with the panels, works both at a vertical or horizontal layout, just adjust the size of the sentiment layer and it's mat to work with the wording of your choice. Members of my mailing list will be receiving the dimensions for all cards today.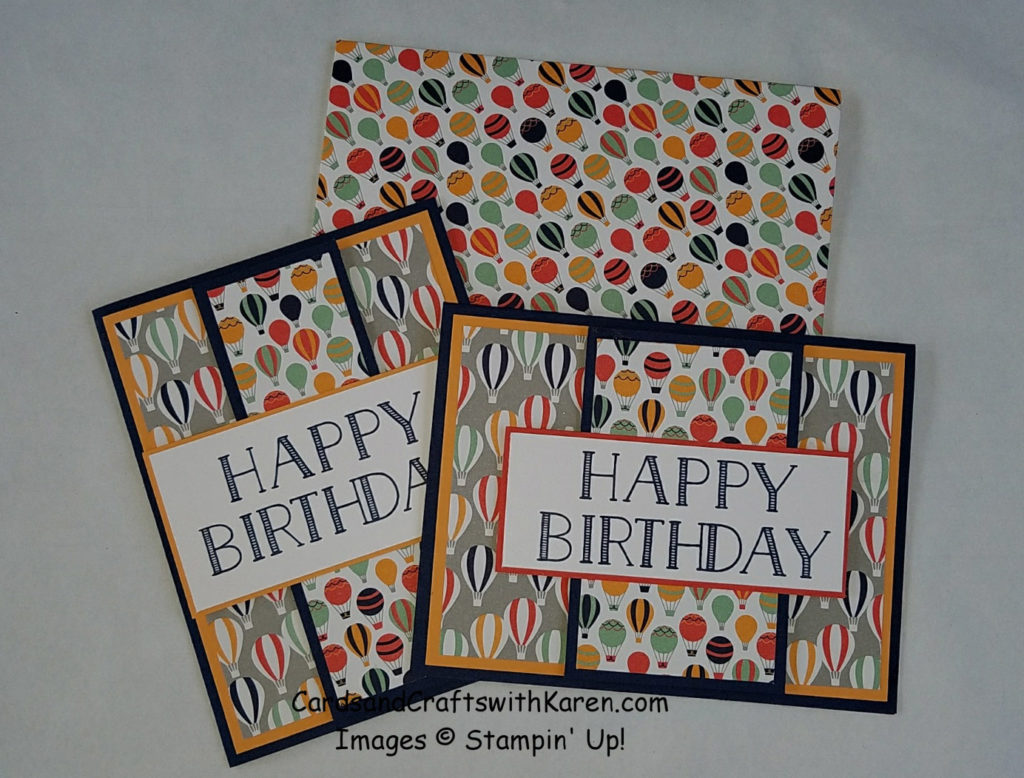 Remember some of the products used are on the retired list and available only while supply lasts. Numerous products can be substituted to recreate this card. All retiring stamp sets are available through May 22nd, then while supply lasts.
In conjunction with the Retiring List, I'm excited to share my very own promotion from now until May 12th.   When you spend at least $50 with me and add your order to the current Hostess Code (QVUEB26H), I'll happily send you:
·    A printed copy of the 2017-2018 Annual Catalog (I send them to all of my current customers) AND
·    A Free Product from the Upcoming Annual Catalog. I'll send you an incredible, new accessory from the upcoming catalog when it's released in June.  While I can't yet tell you what it is, I'll tell you it's valued at $5, and you'll love it!
If your order is over $150, I hope you'll use all of the Host Rewards you've earned.  Otherwise, I'd love for you to add your order to the current Hostess Code QVUEB26H
Click on any of the images below for more product information or to order directly from my on-line store. Everyone who orders from me and checks demonstrator contact will receive handmade re-useable card and small thank you gift. Happy Shopping!