My name is Karen Thomas and I'm a finance manager by day and crafter by night.  I live just north of Pittsburgh, Pennsylvania with my husband and two dogs, Bandit – a Siberian husky and Baron – a German Shepard.  I have always done some type of crafting and even have scrapbooks that go all the way back to high school!  I  started back up again with scrapbooking after a Bon Jovi Tour Travel Trip in 2003 and the arrival of my nephew Jake and niece Maya.  One day on the bus trip to and from work, I met a friend Theresa, who introduced me to card making and stamping, I've been hooked ever since.  Both my nephew and niece look forward to spending time with me and crafting. In May 2012, I joined Stampin' Up as a Independent Demonstrator.
My husband and I joke that since we don't have kids we like to do special concert ticket packages, here is a recent picture from the Darius Rucker Wagon Wheel tour package. The group had a small acoustic set by Darius, photo's and great seats to the show.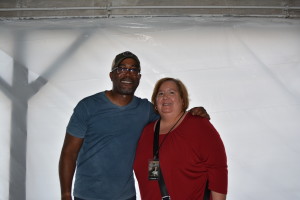 Please enjoy as I start to share my love of card making and crafting with all of you,  Craft On!