Happy Feburary 29th all you leap year babies ! Do you know any? Wouldn't that make a cool birthday, you could be 4 or 16, 10 or 40 – sounds rather interesting if you ask me. Which day would you pick to celebrate your birthday on non-leap year years, February 28th or March 1st?
Today's card features the soon to be retiring 2014-2016 In-Color Ink pads – – Tangelo Twist, Blackberry Bliss, Hello Honey, Lost Lagoon and Mossy Meadow.  If you don't have them already you will want to get both the ink pad and refills today while they are still available, don't forget the card stock as well!
To get started on the card I used the Gorgeous Grunge Stamp set and the 2014-2016 In-Color Ink Pads to create the background on a standard size 4¼" x 5½" card. I used Shimmery White card stock for added sparkle. Next using my Big Shot with the Precision Plate and Magnetic Platform, die cut the largest detailed butterfly from the Butterflies Thinlits Dies in the center of 4¼" x 5½" piece of Shimmery White card stock and adhered the negative space piece to the card base with dimensionals. I stamped once full strength then again for a lighter image, offsetting the full strength images. The sentiment is from Remembering your Birthday in Mossy Meadow – using all five In-Colors. Don't you just love the effect? Any four colors would work wonderfully.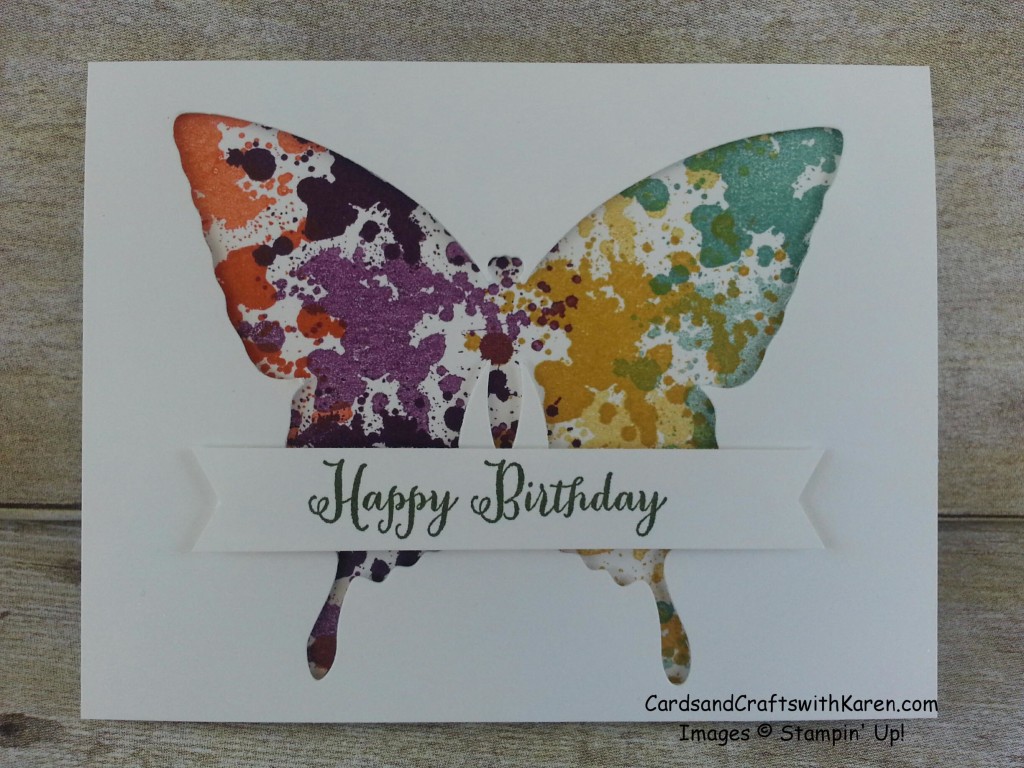 Thank you for stopping by today, hope you liked the card. Click on any of the images below for more product information and to place your on-line order. Have a great day, Craft On!