Hard to believe the four day weekend is almost over, where did the time go.  I am happy to report all presents are purchased, wrapped and packaged to send to my brother and his family in New Jersey, its always a good feeling to have this done, now I will concentrate on all the other gifts. Just plan on relaxing this evening in preparation for the upcoming week which will be busy with work, a holiday party and Stampin Up catalog kick-off party! 🙂  Remember the On-line Extravaganza ends Monday, December 1st with some one day specials, along with items that have been on sale this past week.
Todays card is for the Paper Craft Crew Card Sketch Challenge.  Remember to stop over to their blog for some other great designs.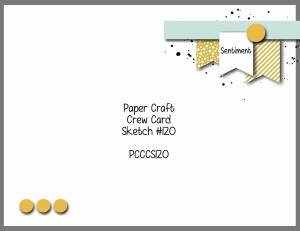 After careful though for a few days, I decided on the stamp 'Bearing Gifts' as my focal image.  This stamp originally had a sentiment under the bear and I chose to separate into two stamps, this way any sentiment can be used with the stamp.  The bear is stamped in Memento Black on Whisper White cardstock and I used a variety of blendabilities markers to color the image. For the white on the bear and little boys hat I added 2-way glue and Dazzling Diamond glitter for a little sparkle. There is also glitter at the bottom of his feet like snow.  Upper right corner has banners in gold and silver foil attached to a strip of old olive with sentiment embossed with Cherry Cobbler powder from the Petite Pairs stamp set. Gold foil heart and snowflake and sequin are attached as accents.  Lower left corner has three silver sequins all from the Frosted Sequins assortment.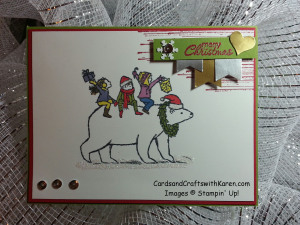 Thank you for stopping by, hope you enjoyed my card. Have a great week – – –  Craft on!
Here is a listing of supplies used for today's card all by Stampin Up. Click below for a direct link to my on-line store.